Week 1 – Finding Inspiration for a Master Bedroom Update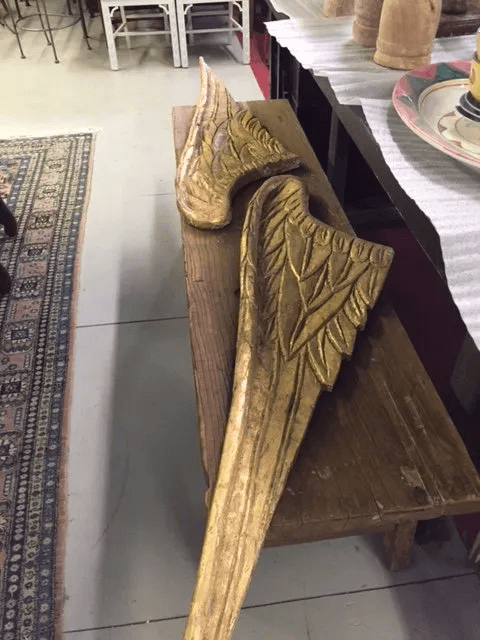 Week #1
The ONE ROOM CHALLENGE sponsored by Calling It Home, is a bi-annual online design event held every April and October. Twenty featured design bloggers from around the country take the challenge to design a space in six weeks and blog about the design process to their readers on Wednesdays. Anyone else with a blog is invited as a guest participant linking their room transformations with the event on Thursdays.
This is my first time as a guest participant in the One Room Challenge, and I am happy to announce "LW Interiors Project Angel Wings" where I will share the process of designing a master bedroom retreat with you starting October 5th. Follow me on Instagram @lwinteriorsnewton and Facebook where there will be links to my blog posts and also a link to the projects by other participants. Also be sure to check out @oneroomchallenge and @housebeautiful.

Why Project Angel Wings? Well, it's because I like to start every project with something that inspires me. And this master bedroom project was inspired by a pair of gilded angel wings I found while shopping at Berkshire Home and Antiques in Great Barrington, Ma.
We have lived in our home in the Boston area for 25 years, and our master bedroom was really worn and outdated. I thought it would be a great project for the One Room Challenge, as the room itself is somewhat of a challenge. Several years before we bought the house, maybe about 30 years ago, there was a fire in the master bedroom. As the room was totally gutted by the fire, the previous owner decided to open up the attic space when renovating. So the ceilings, originally seven and one half feet high were transformed to over twelve feet high. When I began to think about redecorating the space, my first thoughts were:"How can I create a cozy feeling with such high ceilings?" and "What am I going to hang on that large wall up there?"
Once I found the wings, my ideas about the room started to fall into place. When I think of angels, tranquility comes to mind. So I thought that warm neutral colors, a mix of soft textures and beautiful fabrics, and warm metals would help to create that feeling in the room. A cozy, elegant and tranquil master bedroom retreat.
After the wings, finding this feature fabric for the room was important so I could select the wall and trim colors. It is Banyan Embroidery by Thibaut, and I love it! Now I can choose paint colors and get the painters here pronto!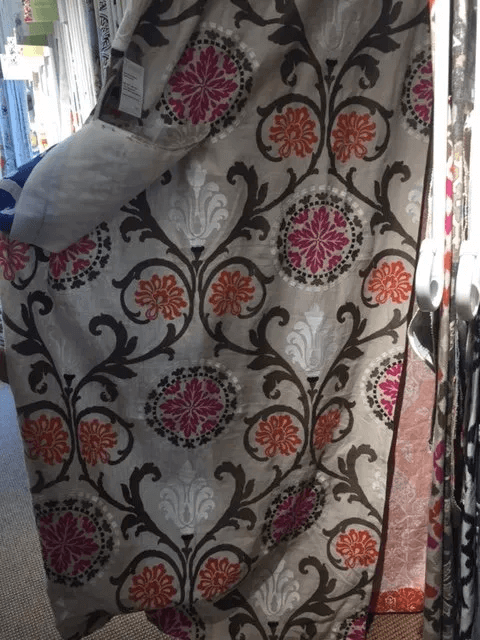 And here are some before pics of the space.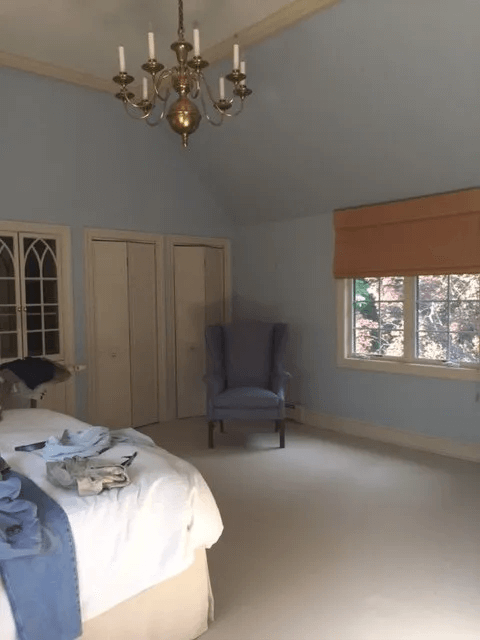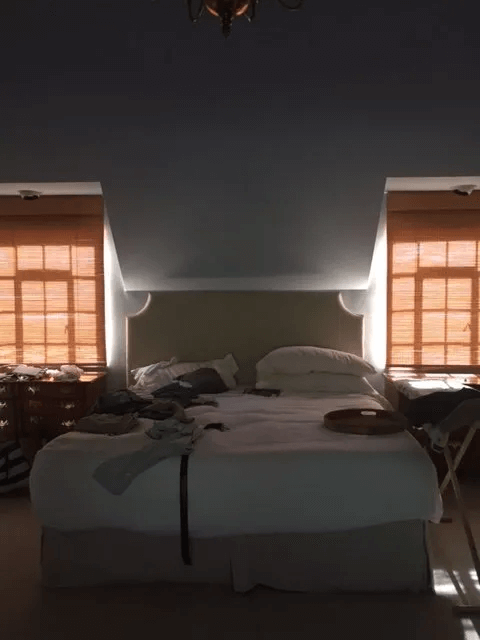 Here is the "before" picture of the bed which will stay. It's a bit messy, but we all have moments when life gets too busy. The wall to wall carpet -though still in decent condition – is going. I installed it many years ago, thinking that it would feel warmer in the New England winters, and it was. But the hard wood floors underneath the carpet are in perfect condition, so I'm going to see them again after all this time. What a treat! As I mentioned before, I am changing out all the furniture and the chandelier. Although lovely and hard to part with after all these years, it's time for something different. I gave myself permission! The furniture will be sold on consignment, and the chandelier is listed on 1st Dibs. The only things staying are the head board and bed skirt. Recently done, they are classic and neutral and fit my new scheme perfectly!
Having found the Thibaut fabric, I called Jorge Aurichi of Level Five Painting. Jorge and his crew removed the old carpet, and painted the walls a beautiful color- Benjamin Moore Greenwich Gate with the trim in Benjamin Moore Simply White – both favorites of mine. I'm going with warm neutral colors to create the tranquil feeling I'm looking for and also to provide a great backdrop for the gilded wings.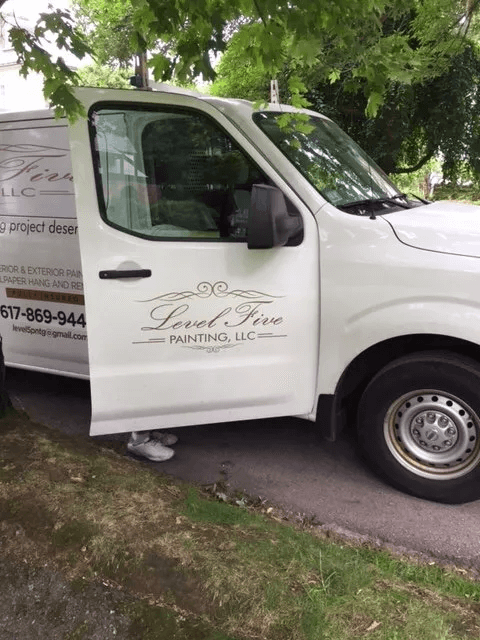 There was water damage from the winter of 2015 when Boston had an accumulation of 9 feet of snow. Okay, it only took two years to get to it! Jorge's crew took care of it for me and they did a beautiful job!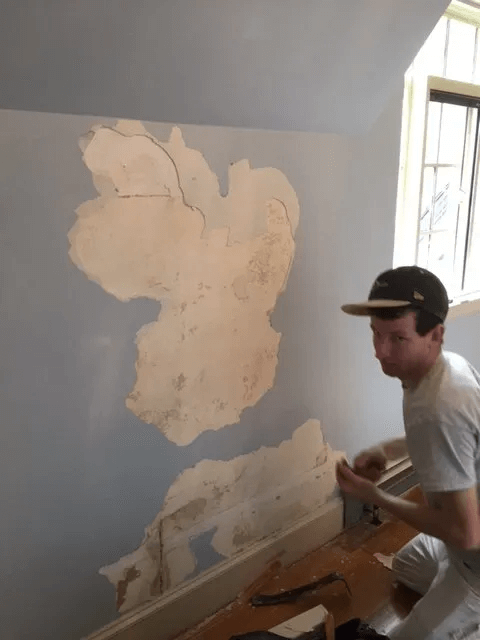 Here is the room with the new colors, and you can see the large wall above the closet area where the wings will go!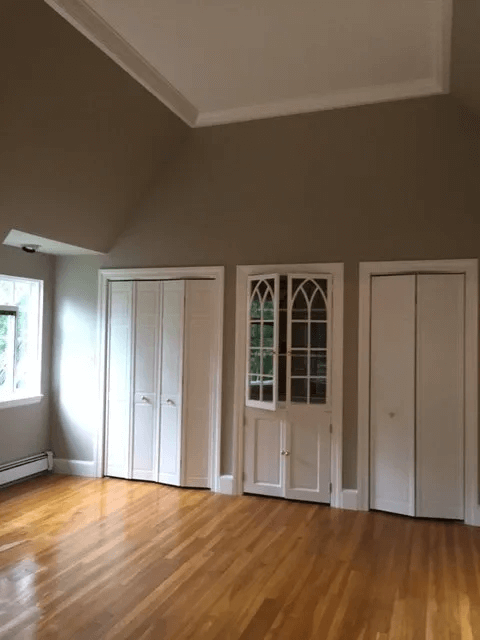 The king size bed goes against this wall under the eve. The existing head board and bed skirt in a neutral linen fabric will stay!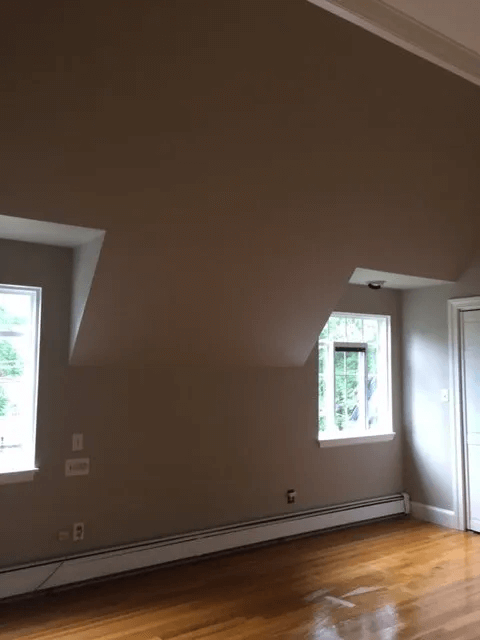 More to come next week -Week 2 of the One Room Challenge. Here's a sneak peek!