10 Great Ideas to Update and Reorganize Your Home
With the beginning of a new year and a new decade, many of us look to home as a place of comfort. What better time to identify goals for making your home more relaxing, livable and organized? Here are ten goals to start off the new year right!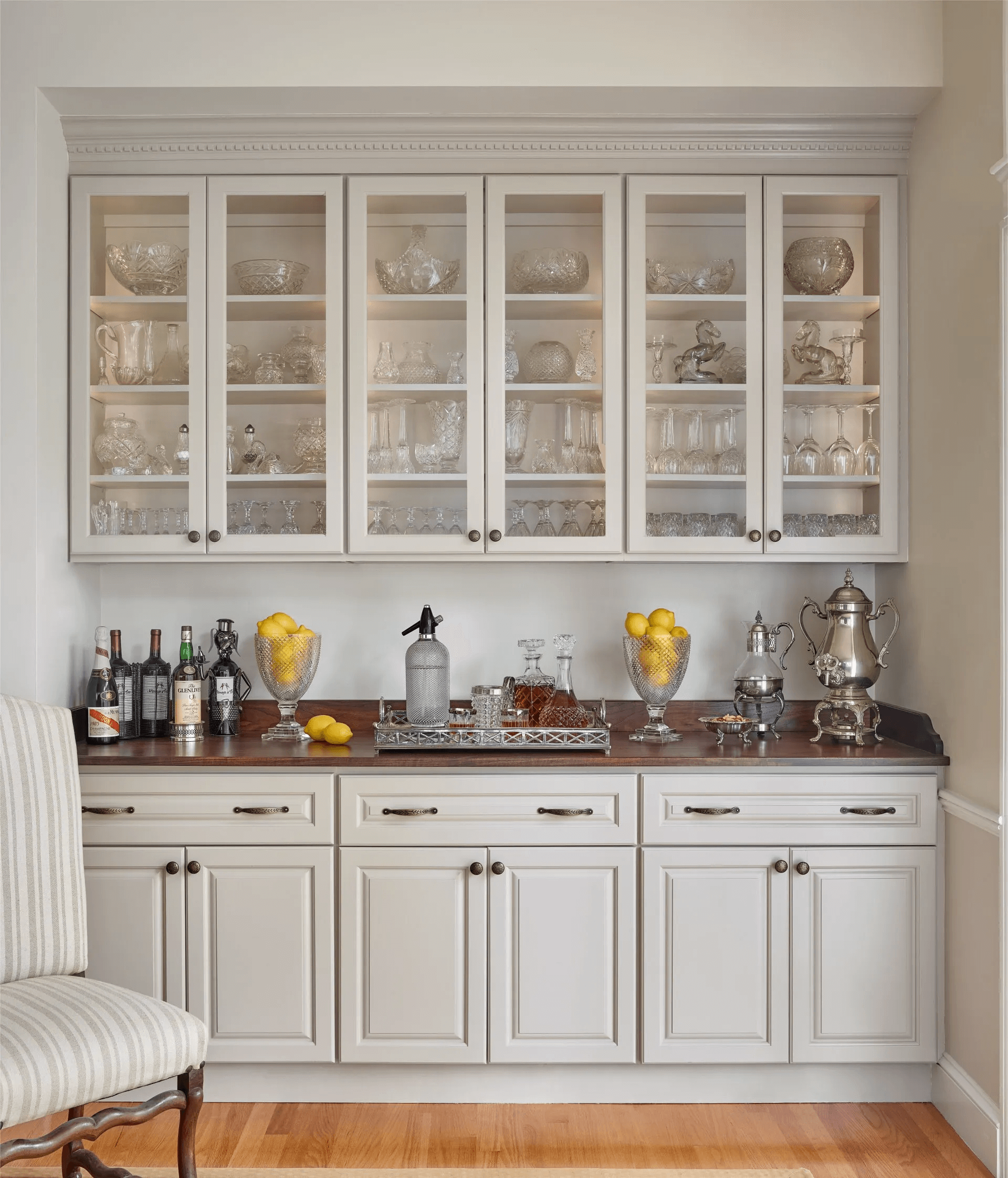 1. Declutter and Get Organized – This past year we helped a client reorganize the serving and storage area in her dining room.  She has large collections of porcelain, silver and crystal.  So we used this area to house her crystal and utilize some of the silver serving pieces. We also painted the dark stock cabinets a neutral color,  Benjamin Moore Stone Hearth and installed a beautiful walnut counter to warm up the space.  By displaying and storing only the crystal pieces together, we created a calm, collected and organized space that provides visual interest and allows easier access for entertaining. (Photo by Jared Kuzia)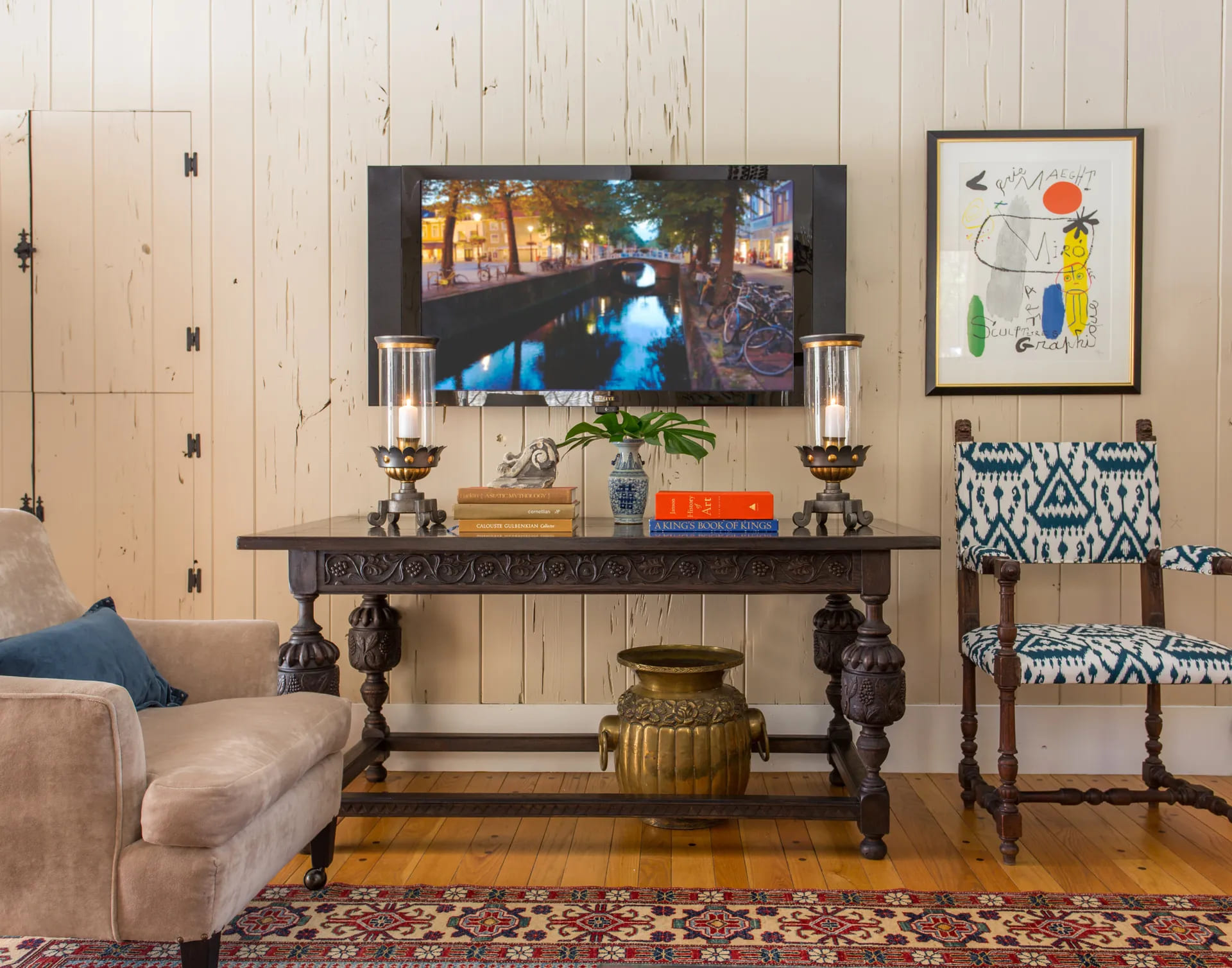 2. Update your TV area.  In the past month I've had at least a half dozen discussions with clients and friends about updating the TV viewing areas in their homes. With so many streaming options available, people are watching more TV at home. The goal would be to upgrade your internet access and clear your viewing area of all cords and devices by purchasing a Roku stick or Smart TV. If you really want to go all out technology-wise, I can recommend geeks to help. This colorful vignette has multiple uses –  television viewing, a serving area for gatherings with friends, and a space to display books and items of interest. (Photo by Eric Roth)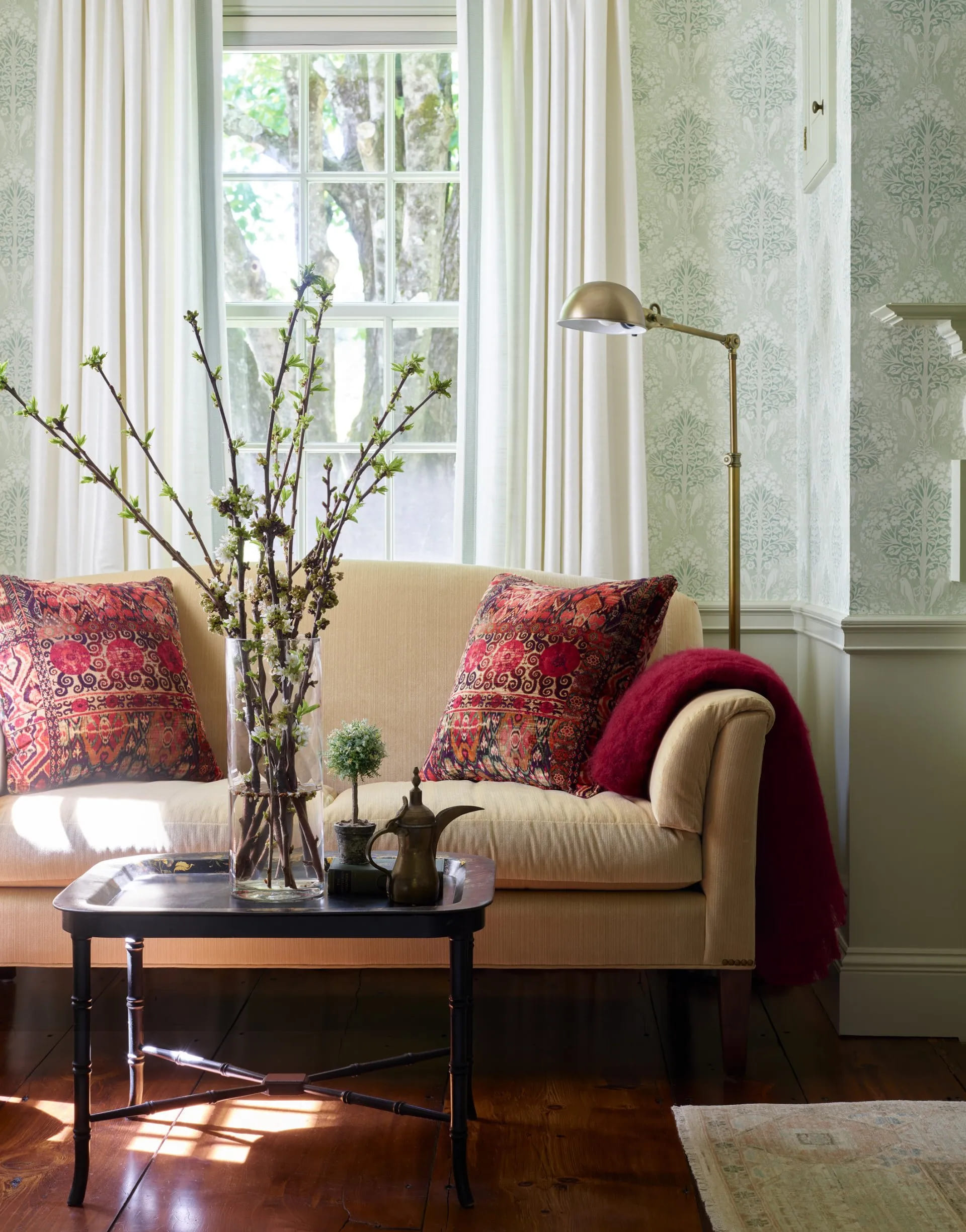 3. Get cozy this winter with new pillows and a throw. There's nothing better for reading or watching TV during our cold New England winters! I recommend changing out pillows and throws with the seasons. (Photo by Jared Kuzia)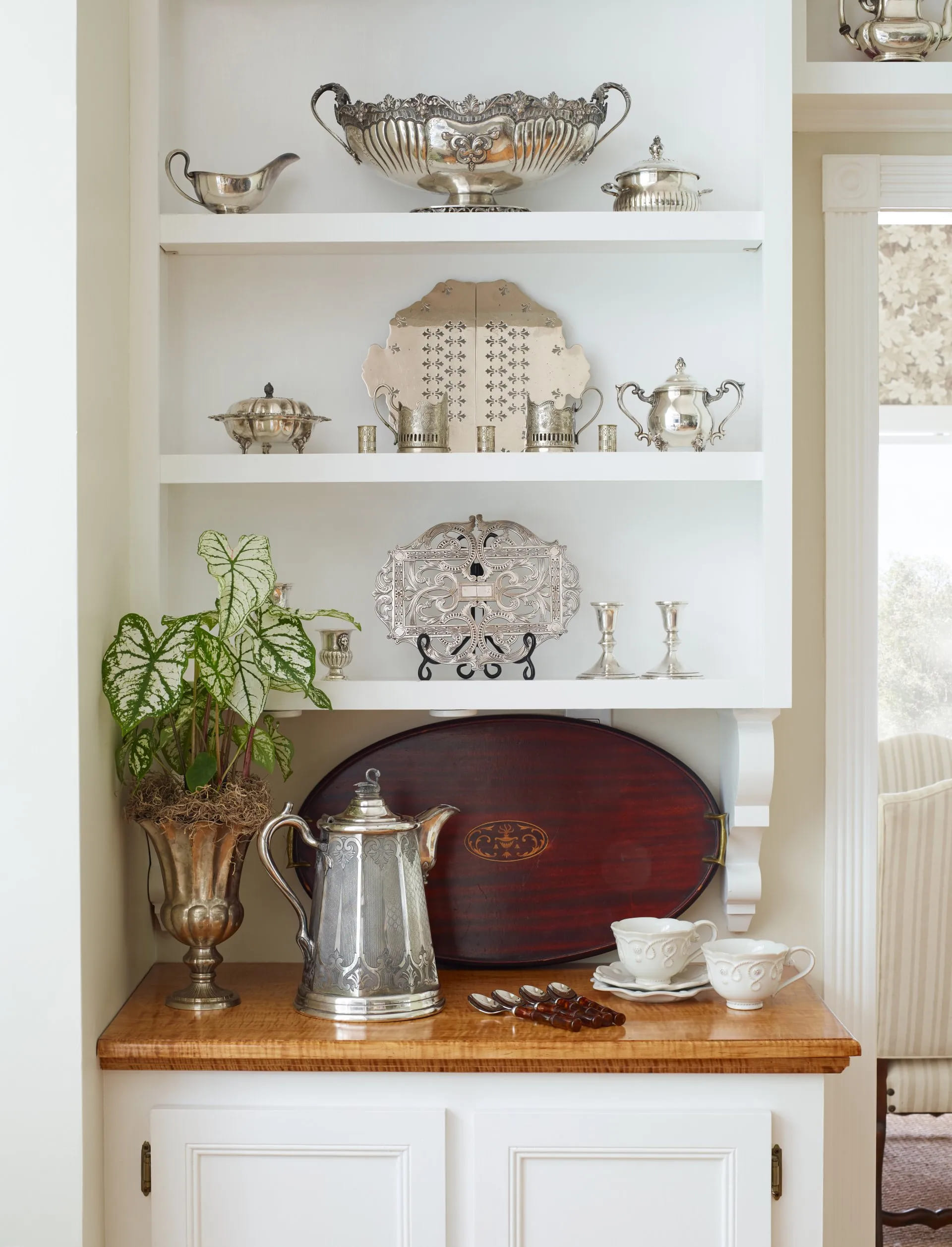 4. Use your silver. Yes, it needs to be polished every so often. But who can resist how beautiful it looks on display like in the image above? Also, why not take out your silver or silver plate flatware and use it everyday? It's dishwasher safe as long as you stay away from detergents with a citrus scent.  It's also important to isolate the silver away from the stainless in the dishwasher, and take it out and dry it right away. You won't have to worry about polishing it with frequent use.(Photo by Jared Kuzia)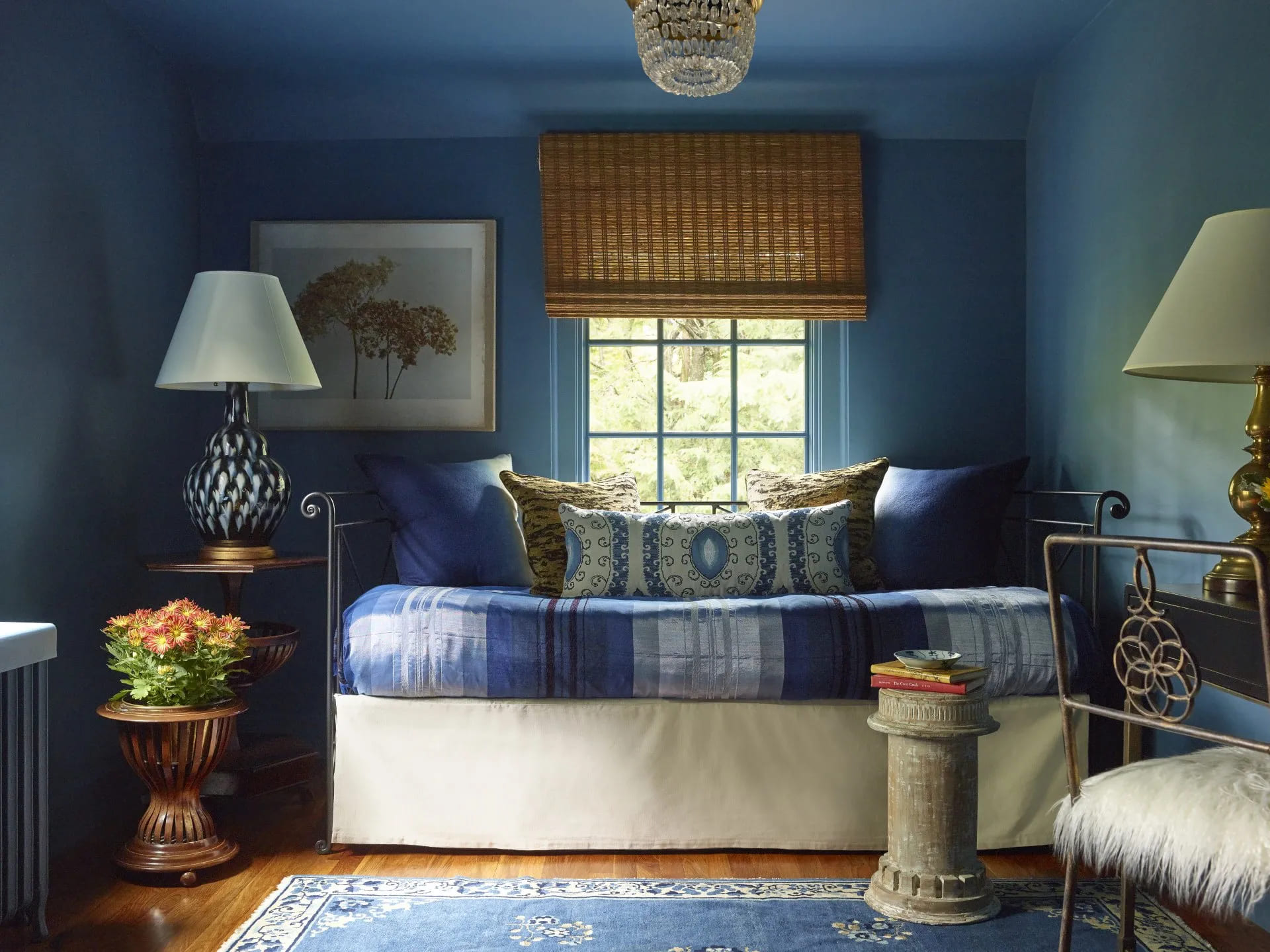 5. Indulge yourself in something blue. The Pantone Color of the Year for 2020 is Classic Blue, and who couldn't love it? Whether it's pillows, a throw, or a rug, or even painting the ceiling in your favorite shade of blue, please do something that's blue. It's a color that's about what's happening next. (Photo by Jared Kuzia)
6. Earth tones are back. Many designers say that the gray trend is over. I still love it, but it is good to combine warm and cool tones. Green is an earth tone earth tone and it contrasts beautifully with warm colors. The easiest way to bring green into a room is with house plants. Notice how the green trees outside the window of this Newton living room provide a beautiful contrast to the gold, tan and brown tones. (Photo-Eric Roth)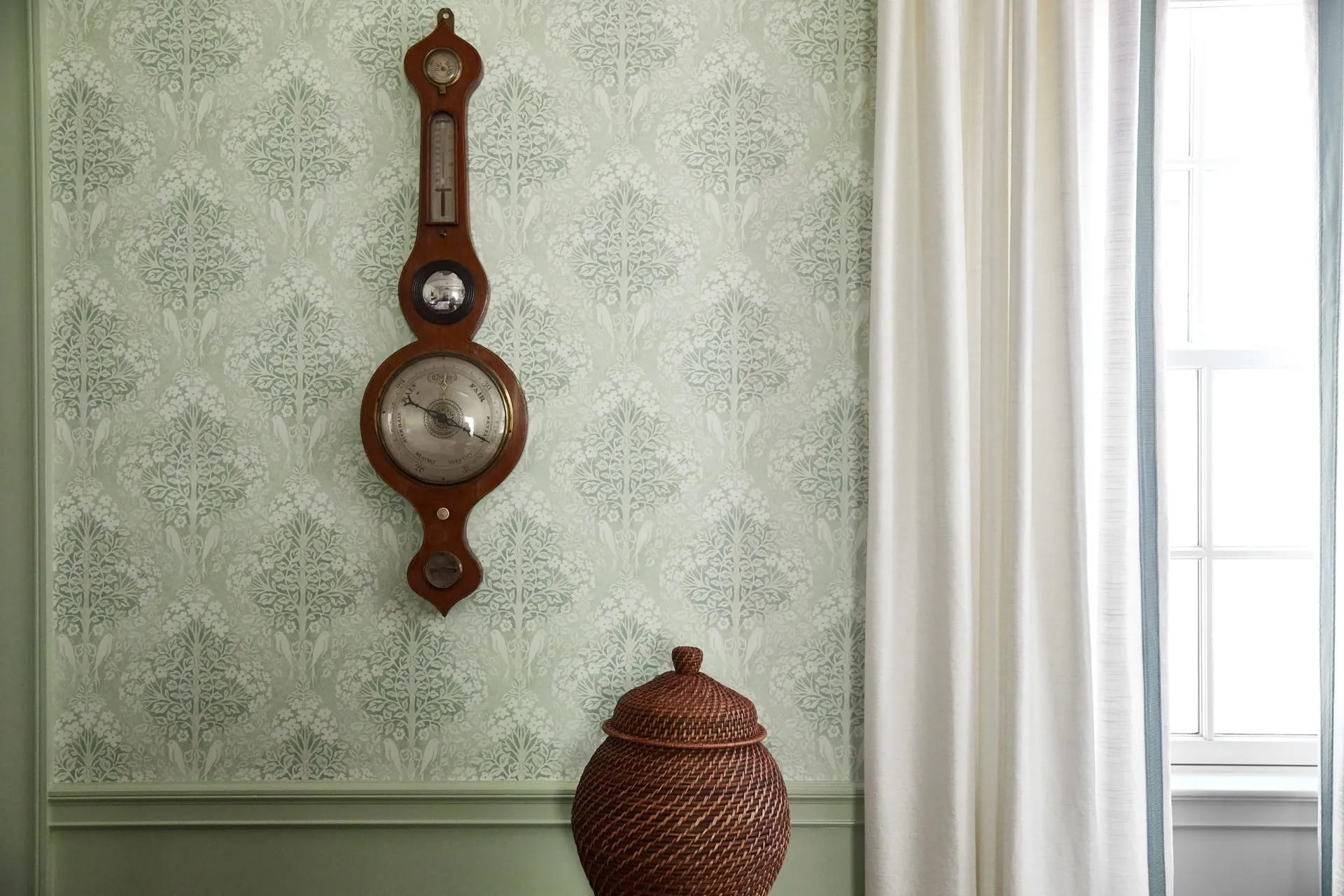 7. Speaking of green, also think of it as a neutral. Home Depot's Behr paint color of the year is its Back to Nature Green. Many associate the color green with environmental awareness, and that is a good thing. We recently completed this master bedroom using soft green tones with cream, yellow and red accents. It's very restful for sure! (Photo by Jared Kuzia)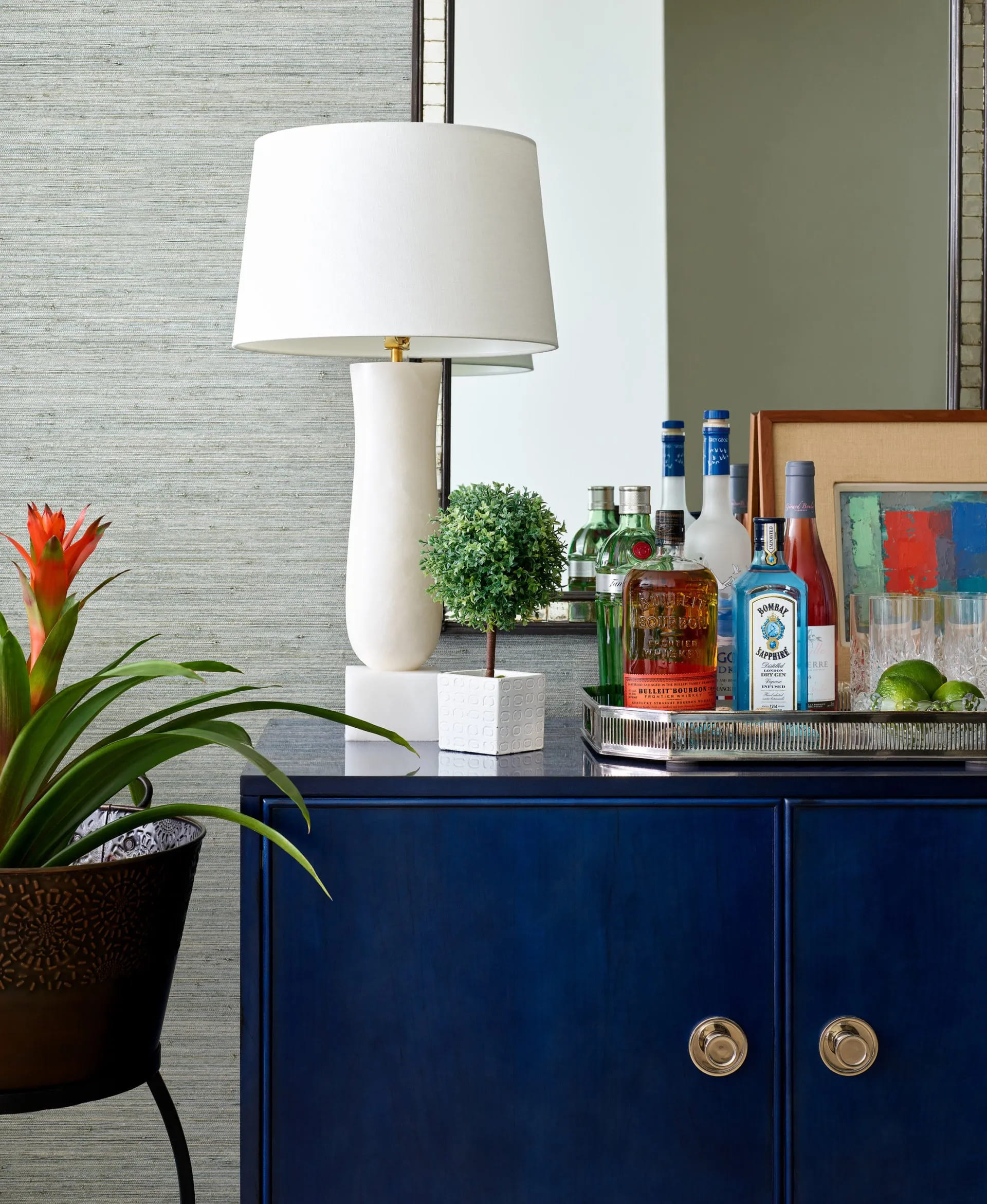 8. Set up a bar – there's nothing more hospitable when entertaining. Here's a space where we paired a new cabinet with an antique mirror and vintage silver tray to hold our clients' favorite spirits. (Photo by Jared Kuzia).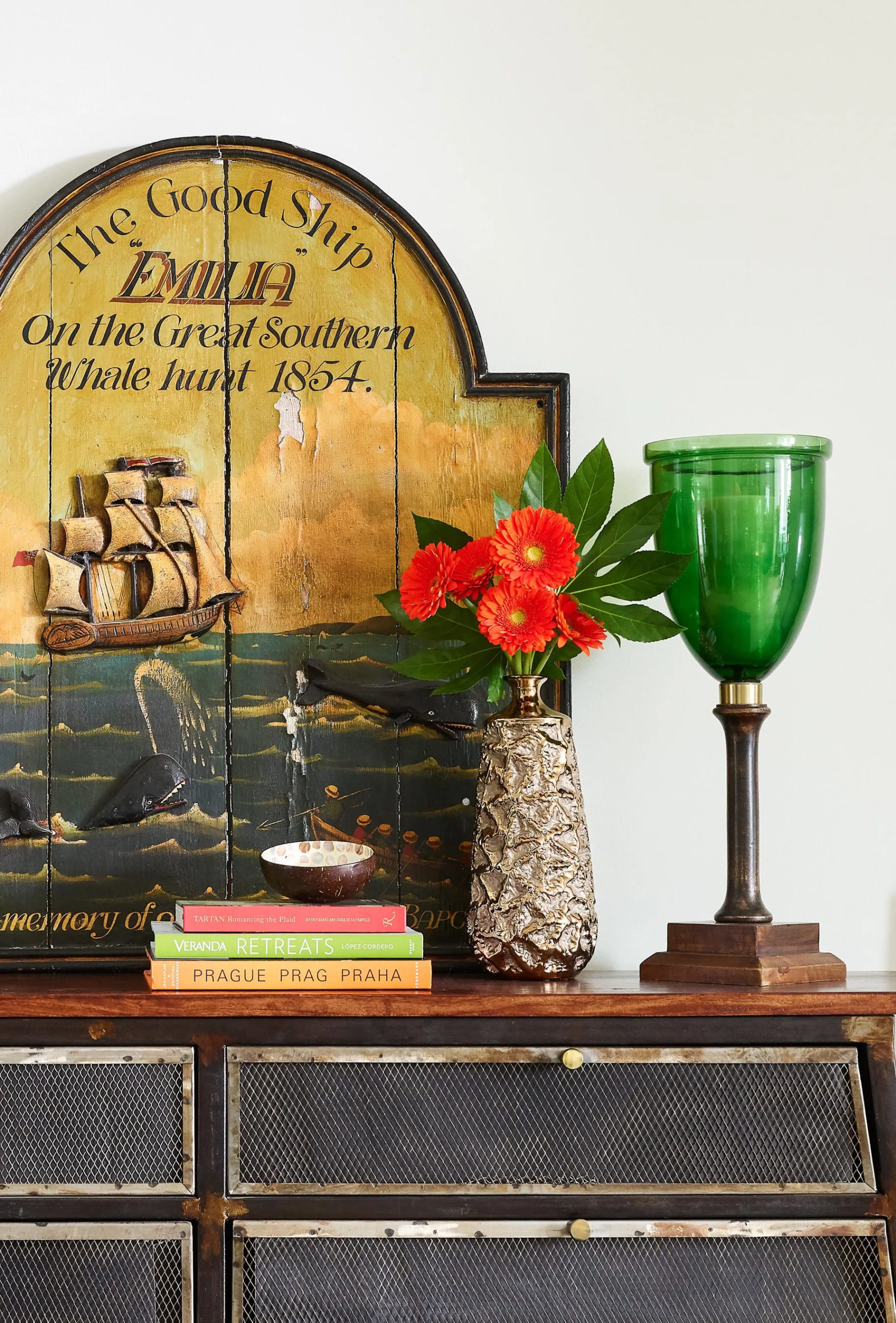 9. Add some thing handmade to your space. Just recently Boston Globe writer, Marni Katz, explained that items with history or personal meaning are "in" for the new decade. Our clients chose the antique plaque above to convey the location of their new condo on the Boston waterfront. We specialize in finding one of a kind vintage and antique pieces for our clients.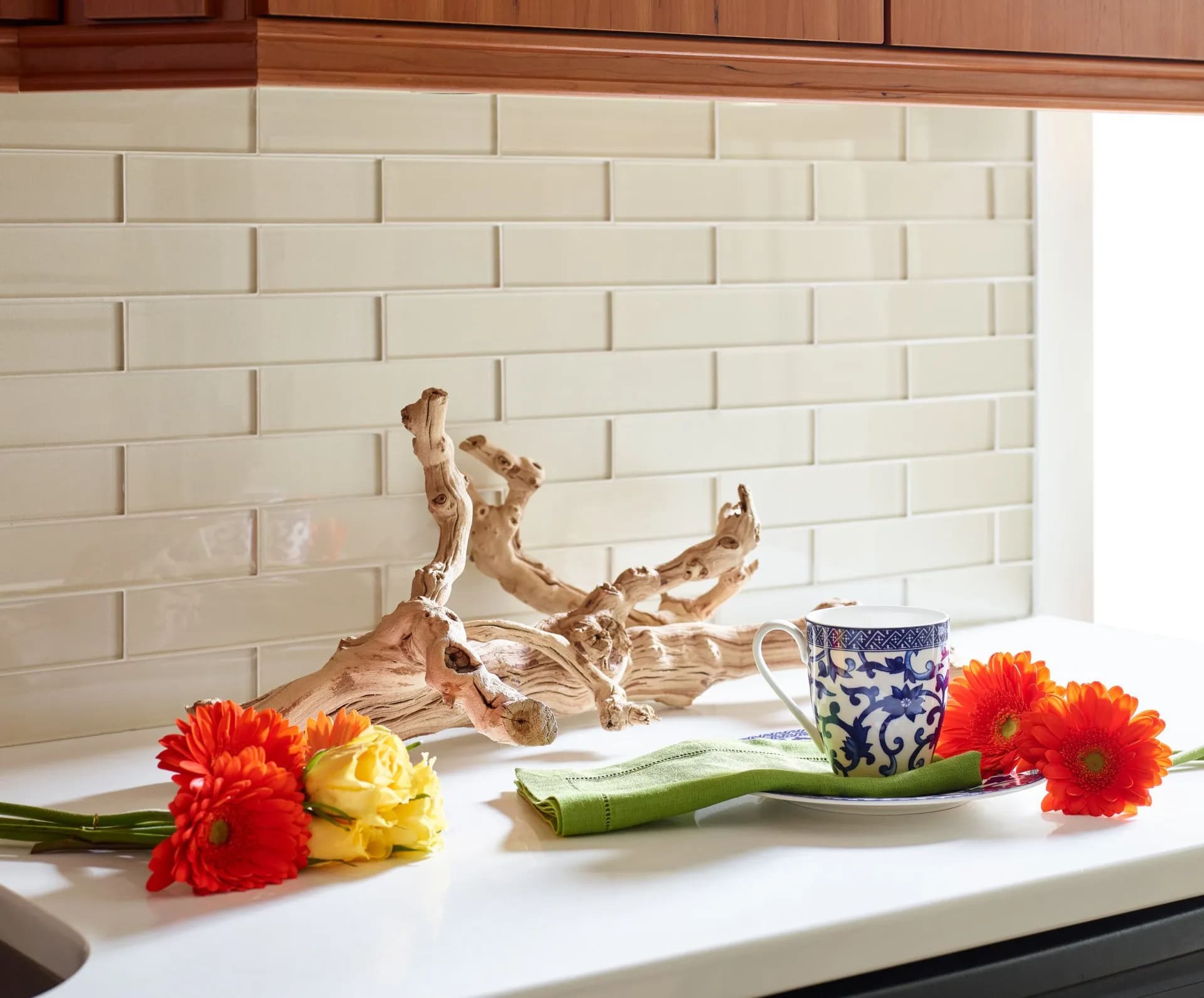 10. You can give your kitchen a fresh new look without changing the cabinets.  Our clients kept the cabinets and upgraded the kitchen with a white quartz counter top and warm white glass tiles to give the space a fresh feeling. (Photo by Jared Kuzia)
Feel free to contact us for a design consultation or new project. Best wishes for a great 2020!