At the beginning of each year, there are numerous articles about what's in and out from a design perspective. Well known paint companies always advertise a new color of the year. What I've noticed is that design trends are going in and out so quickly, and there is so much available to buy online, that it can be very confusing to make selections for one's own home. The key to making selections for your home has to do with evaluating whether or not something is a trend or if it will be more long lasting-and then pulling it all together. Here are questions from clients that I have been hearing lately.
Is gray still in style? Yes, it is, but there's a shift toward warmer gray tones ( greige) or a mix of cooler tones with colorful accents. The Ben Moore color trends for 2019 are warmer and softer. Metropolitan, the Ben Moore color of the year falls in the warm gray category. Even the cooler colors like Decorator's White, Beau Green and Hale Navy can be paired with warm tones to create an interesting space. I'm working on a bedroom project where we are using Soft Fern (see below) and complementing with warm red and yellow fabrics.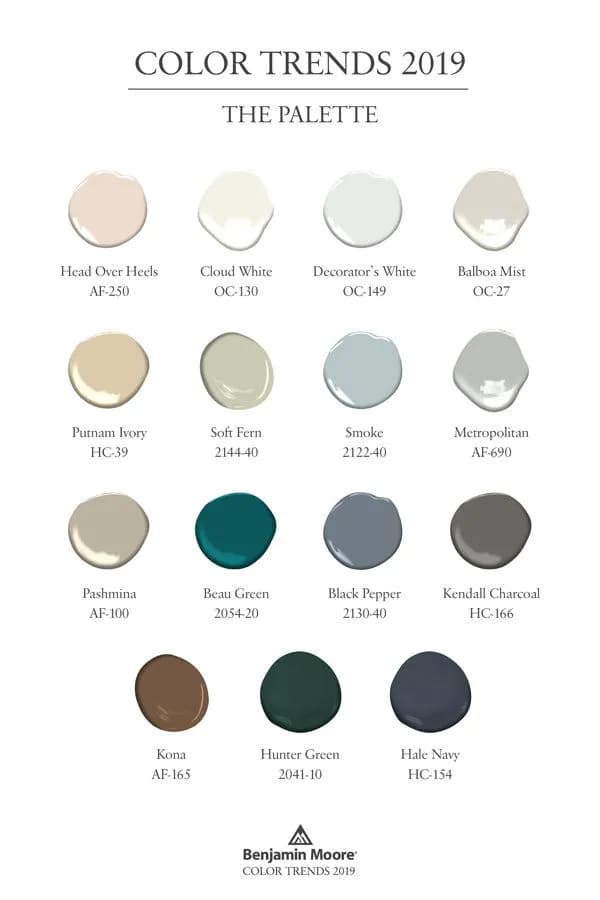 Will the wallpaper trend last? To me wallpaper has always been in. What is exciting about wallpaper these days is that there are many new patterns and textures available. The wallpaper in the bathroom below is from Thibaut. If installed properly, wallpaper will hold up well in a bathroom despite moisture. The ceiling paint is Ben Moore Aura Bath and Spa which is designed for high humidity environments.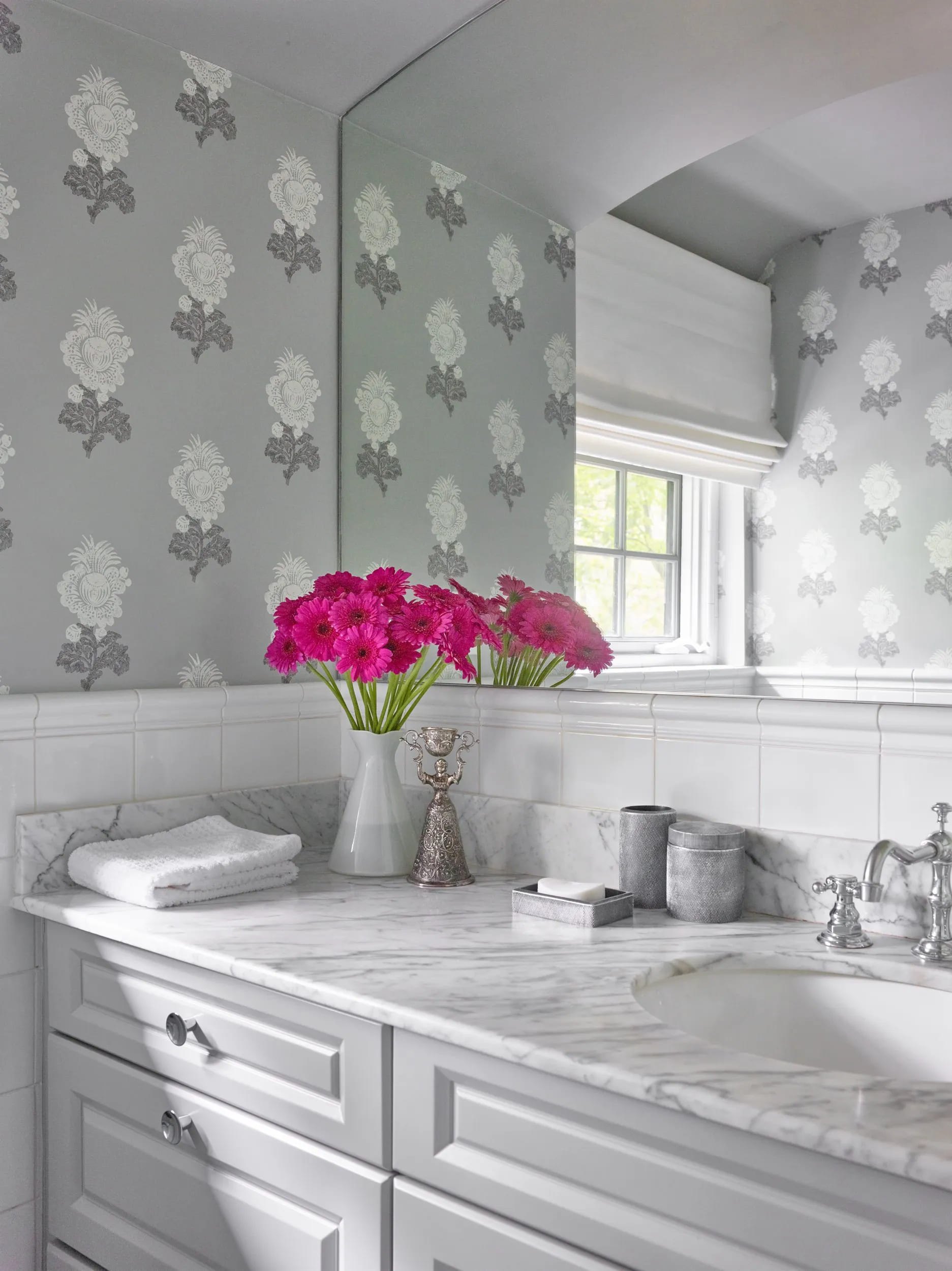 Is it possible to update a space with a modest budget?   Yes, and especially if you can do the work yourself. I recently helped a client update her dining room with wallpaper and paint. We culled through her crystal and silver collections a la Marie Condo and added upholstered vintage chairs to soften the space. Here's what the room looked like before.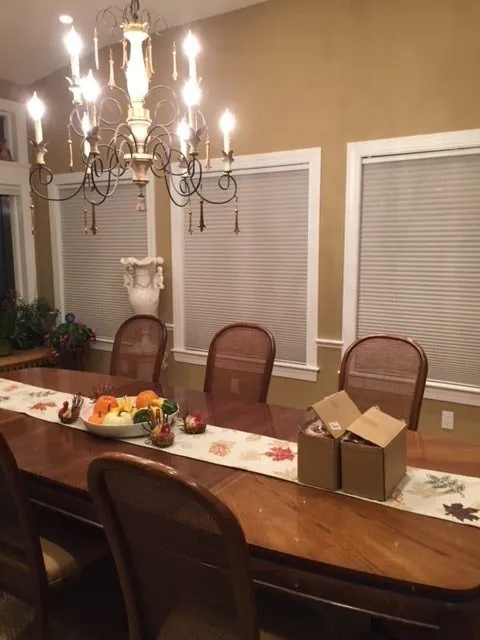 And after…
The goal was to lighten and brighten the room with neutral tones we pulled from a Cole and Sons wallpaper. We used the wallpaper on one wall to create a backdrop for her table and added vintage chairs. We found the host and hostess chairs at Home Goods. By using wallpaper on one wall we saved in materials and labor.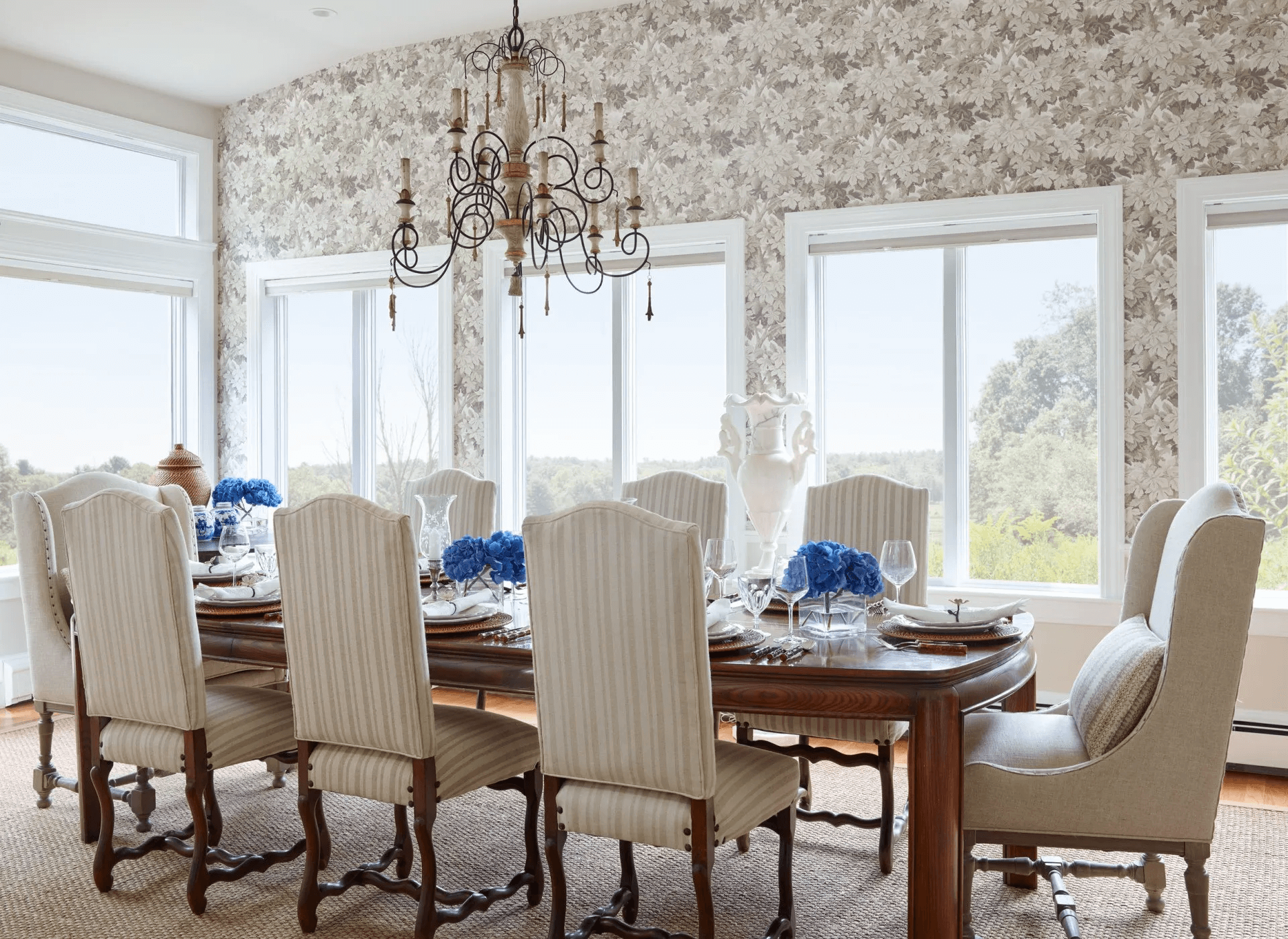 Here's the before picture of her built-in cabinet.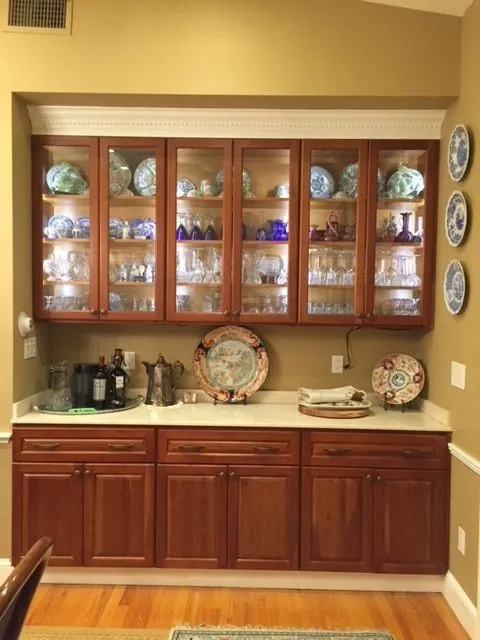 And the after.…..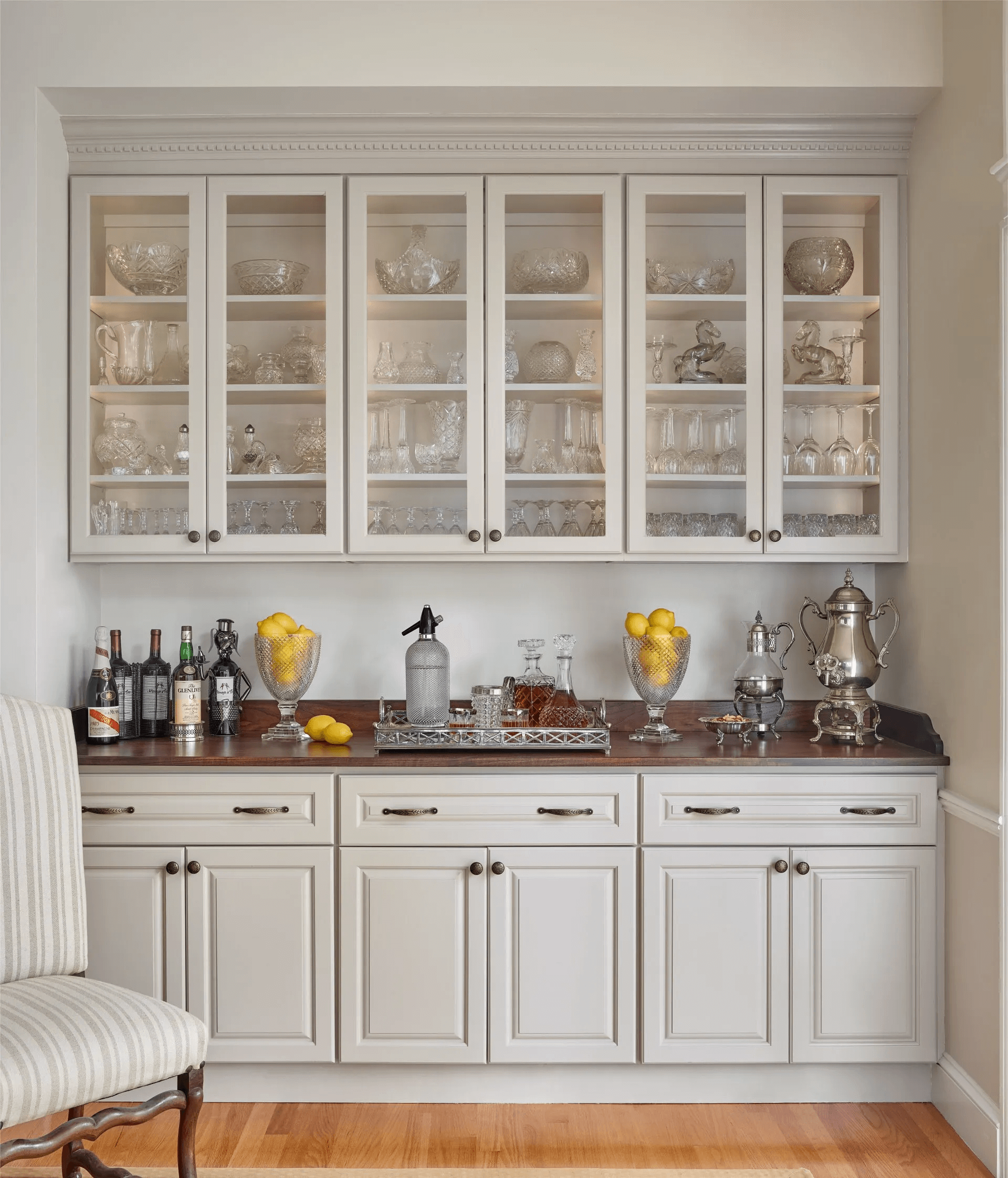 It's amazing what a coat of paint with a new counter can do! Instead of replacing the marble top, we went with a less expensive and quite beautiful walnut counter top. We reorganized her collections and placed her blue and white items elsewhere.
Should I go bold with color? Yes, and if you do, make sure it is your favorite color and in a space where you will tire of it less easily. For example, a powder room, library, guest room or dark hallway are great places to go bold with color.
The fourth bedroom in my home has no architectural features to speak of. It's a dark room with no molding, two curved ceilings walls, and different size windows . So I thought I would paint the entire room, including the doors and trim, a bold blue color. Now every time I go in there, I forget about what I don't like about the space and think about what I do like about it!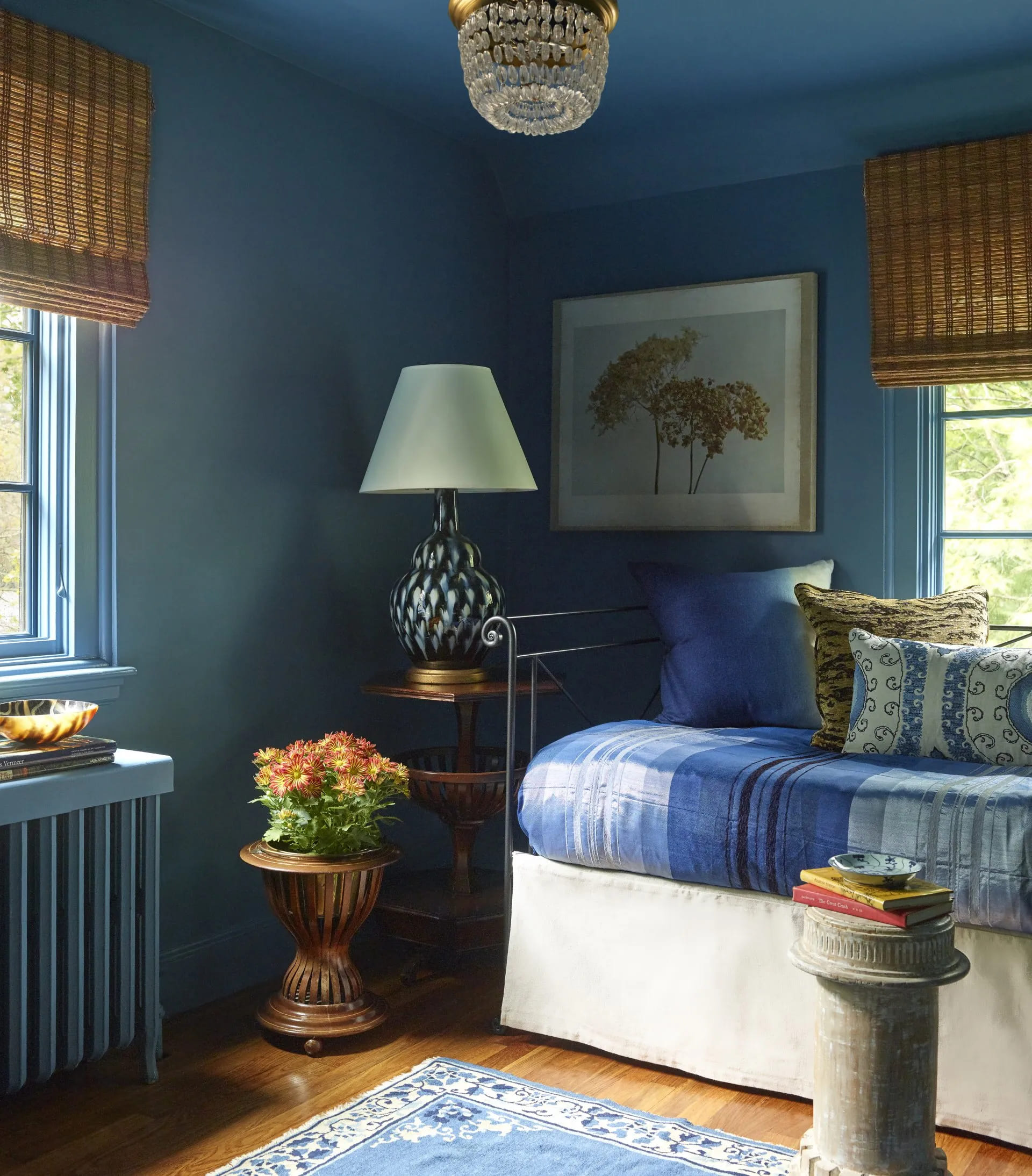 What is the biggest trend of 2019? I would say it's about color. Even though gray is still popular and neutral rooms are still beautiful, the overall trend is colorful, maximalist and full of personality. That being said, are you ready for it?