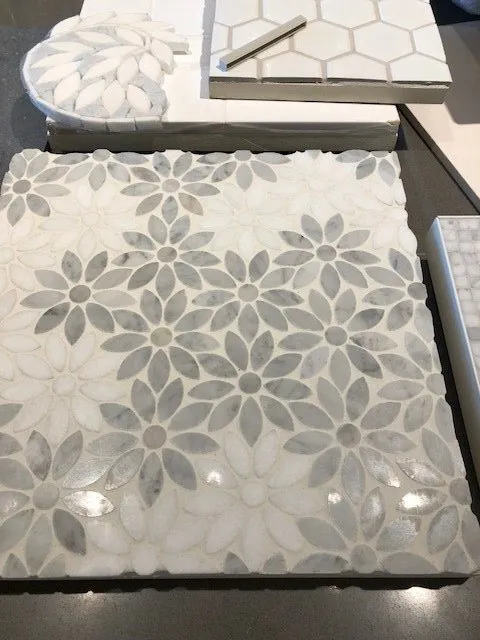 Last winter my husband slipped on black ice and fell right as he walked out the front door. He ended up fracturing his ankle and was incapacitated for eight weeks. One thing that was tough for him was getting up the stairs to the second floor. Another was getting into the shower since we only have tub/shower setups in both bathrooms upstairs and two powder rooms downstairs. This made me think more about bathroom design.
This summer I attended an event at Designer Bath in Watertown where Gary Moffie, President of The Remodeling Company, discussed universal design and the equalizing of design for people of all abilities. Gary said that bathroom falls occur for people of all ages, so why not make some if not all aspects of universal design part of your plan when renovating your bathroom?
I have also been working with a client who plans to upgrade both upstairs bathrooms in the house she's lived in for 25 years, where safety and easy maintenance are her main goals – a topic we discussed in depth as we selected materials to meet her needs.
So what are the elements we should add to make a bathroom feel safe and attractive for all ages? Many recommendations for universal design are very attractive to me as a designer-a large open area in the bathroom, seating and grab bars in a shower or bath, walk-in showers with no floor barrier, single lever faucets, and hand held showers-to name a few. Bathroom counters can be anywhere from 32-36″ high, depending on the client's height. A bathtub with a large deck for sitting and then swinging one's legs over into the tub is another modification.
Once you decide on the functional aspects, the next step is to choose materials that you love. There are many attractive materials on the market to create a beautiful bath that functions safely. Here is a bathroom by Jonas Carnemark that incorporates many features for safety as well as attractiveness – a barrier free space, porcelain tiles that feature slip resistant grit, and an ample tub ledge that lets you sit down and swing your legs into the water. The materials have an organic feel in a warm color palette – very soothing and in fact, cozy. I love the contrast of white tub with the darker tile.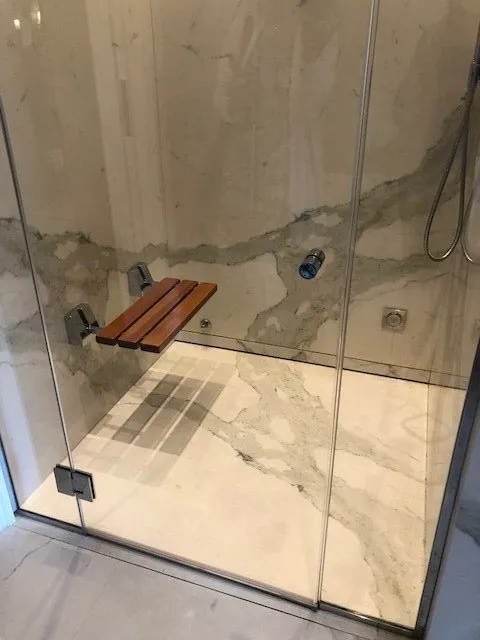 Here is an image of a walk-in shower without a floor barrier for easy access. We could have used a situation like this when my husband fractured his ankle. Also notice the drain which is tucked into the back wall and the fold down seat attached to the wall. (seen at Splash in Newton, MA)
Speaking of seating in a shower. I designed this bench for a shower in my own home. The base consists of two cement architectural elements with a cement top. And yes, the top was sanded to make it smoother for comfortable sitting. The stone blends well with the Carrera marble tile.
There are floor surfaces that help to reduce the risk of injuries from slips and falls in the bathroom such as porcelain tiles with textured surfaces, matte finishes, or sand-containing glazes. Another flooring option is small tiles with more grout lines because they have a better "grip" than larger tiles. Also every bathroom should have a low-pile, rubber-backed bath mat which helps to prevent slipping when stepping out of the shower or bath.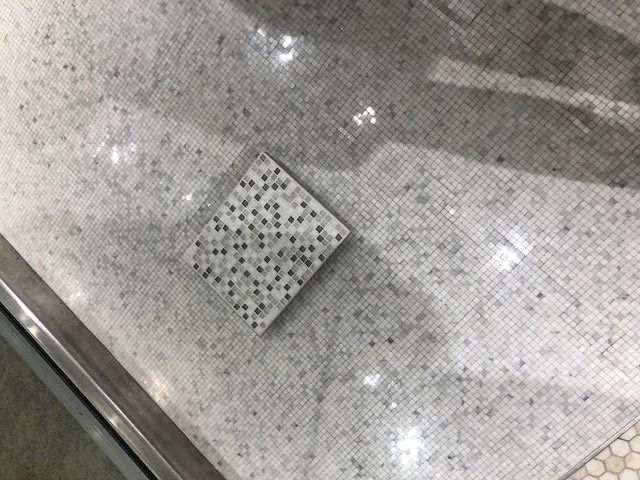 Here are two examples of a small floor tile with grout lines to help prevent slipping. The smaller sample is a glass tile and the other is an installed marble tile floor. (Tile Showcase at the Boston Design Center)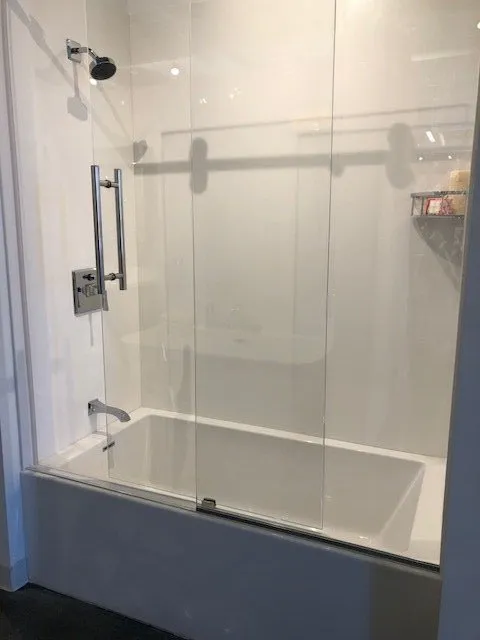 Not necessarily universal design, but for a very clean modern look and low maintenance, here's something that's relatively new. Instead of using tile and grout in a shower or tub enclosure, there are wall panels made of porcelain, quartz or a composite material similar to quartz. Some companies carry counters in the same color to create a coordinated color scheme. A fabricator with experience should be able to measure and install the wall panels. (Designer Bath in Watertown)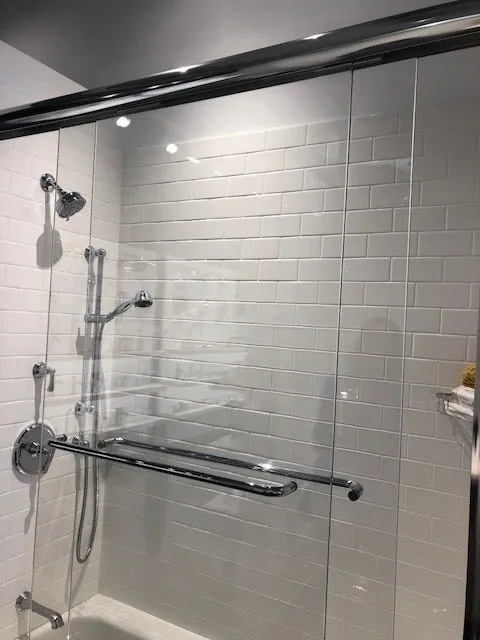 Here is a shower enclosure with wall panels that look like grouted subway tiles at Designer Bath in Watertown.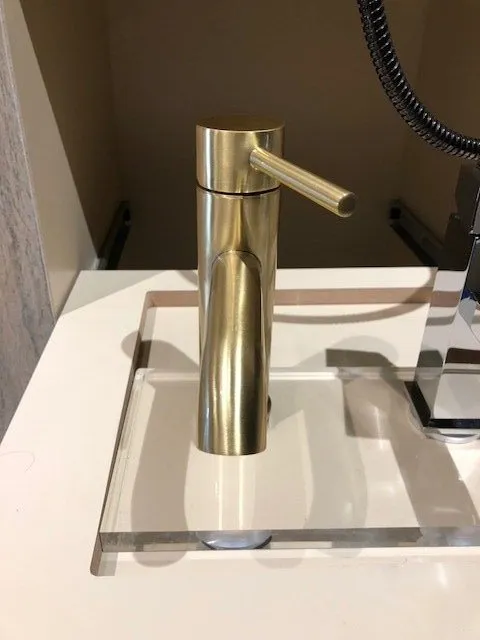 Single lever faucets like this one have a clean, modern look, and are also easy to grasp or move with the side of your hand.
These are just a very few of the many options available for a beautiful and safe bath installation. If you have questions about creating a new bathroom for your home, feel free to contact me at lwinteriorsnewton@gmail.com.