Before and After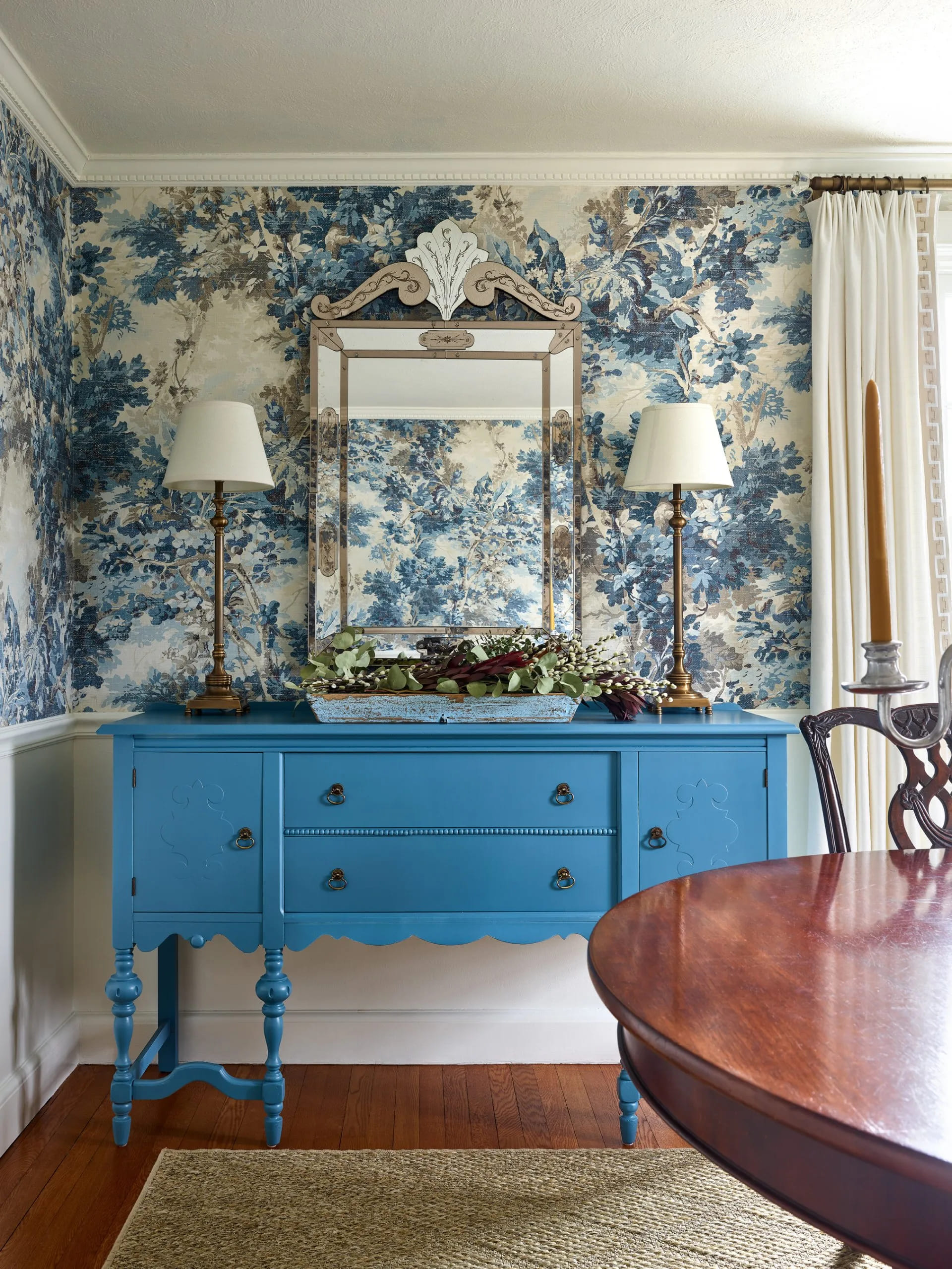 All of us are going through very trying times right now, and home design may or may not be on our minds. With all of the sadness that surrounds us, to be healthy, employed, and have food on the table are blessings to count for sure. However, being in quarantine provides us with the opportunity to consider how our space does and doesn't work and to think ahead for future projects. In that spirit I'm sending along some inspiration.
When I initially meet with clients about decorating a room, I have many questions. How do you use the room? What are your favorite colors? And most importantly, what do you want to feel like when you're in this room? In this case, my client knew herself. Right off the bat she knew she wanted a blue and white color scheme, floral wallpaper and to keep the existing furniture. She was also willing to consider changing out the ornate chandelier to one with cleaner lines.
Here's a before pic. The clients have lived in their Colonial style home for over 20 years and upon moving in had painted the dining room a deep red which was popular at the time.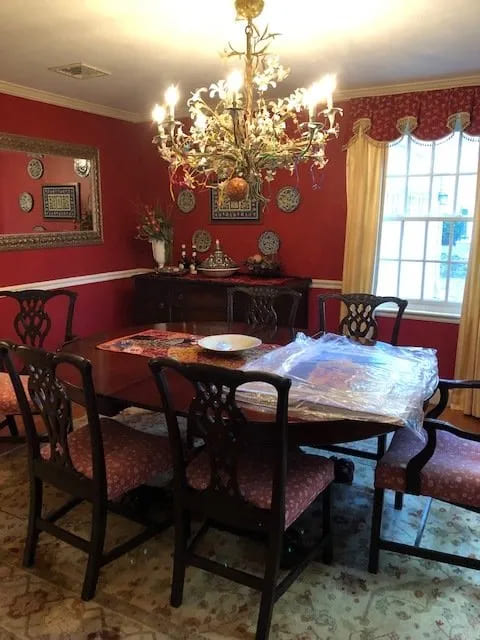 I found a number of lovely wallpapers to show my client, but when I saw Cowtan and Tout's Rutland grass cloth wallpaper at the Boston Design Center, I hoped she would love it as much as I did. It creates such a romantic feeling in the room. Paired with a curvaceous chandelier and off white draperies with a decorative trim,the room feels totally transformed. (Many of my clients love white draperies because they are classic and never go out of style.) We reupholstered the dining chairs in a Schumacher performance fabric, and switched out the rug, worn down over the years by children and dogs, for a textured sisal rug from Ballard Designs.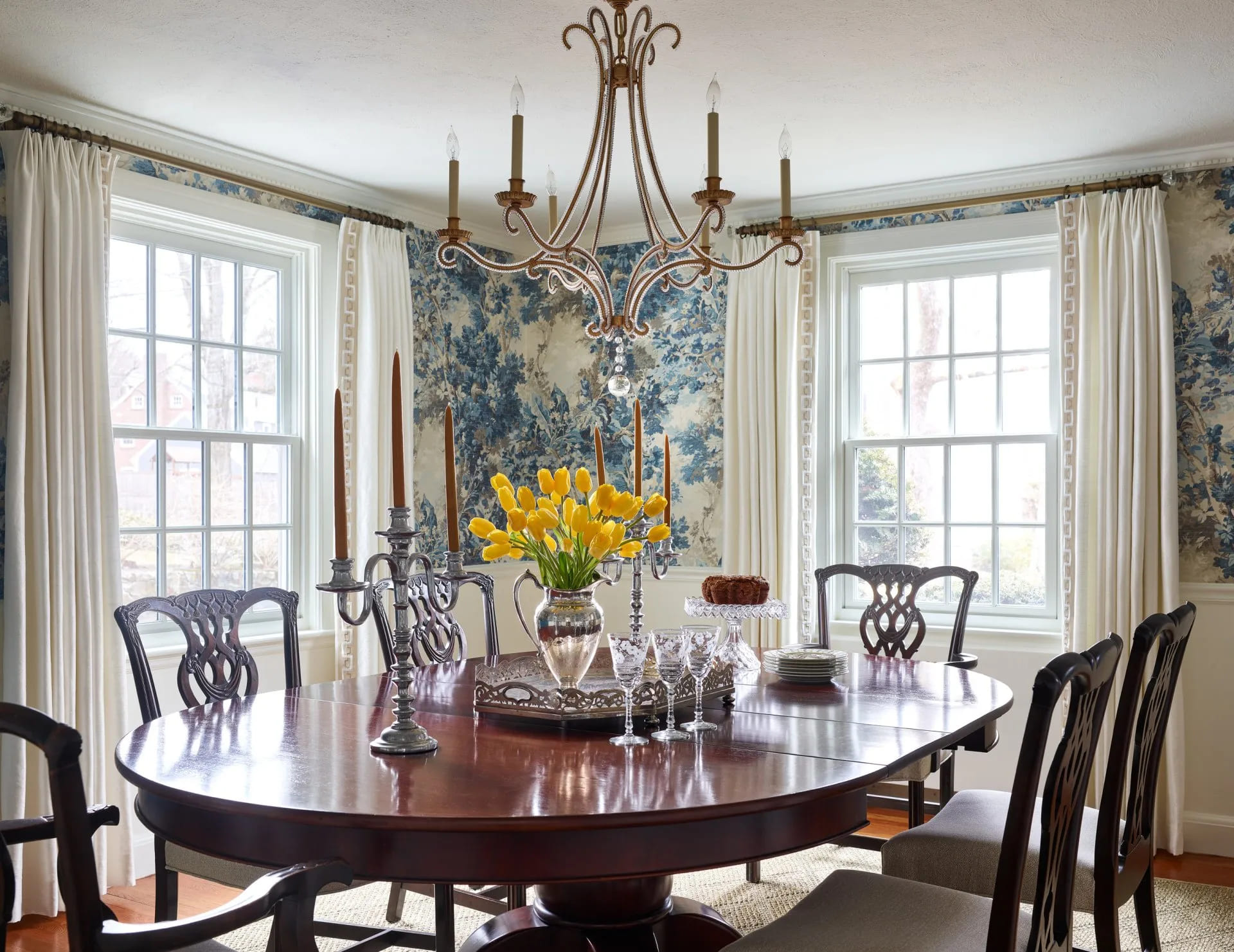 Here's a before pic of a dining armchair.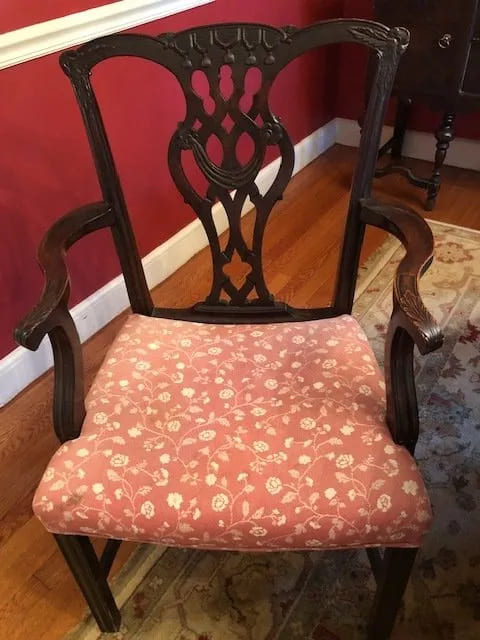 Just reupholstering the chairs gave them a fresh look. I strongly recommend performance fabrics for high traffic areas like kitchen and dining room seating as well as family rooms.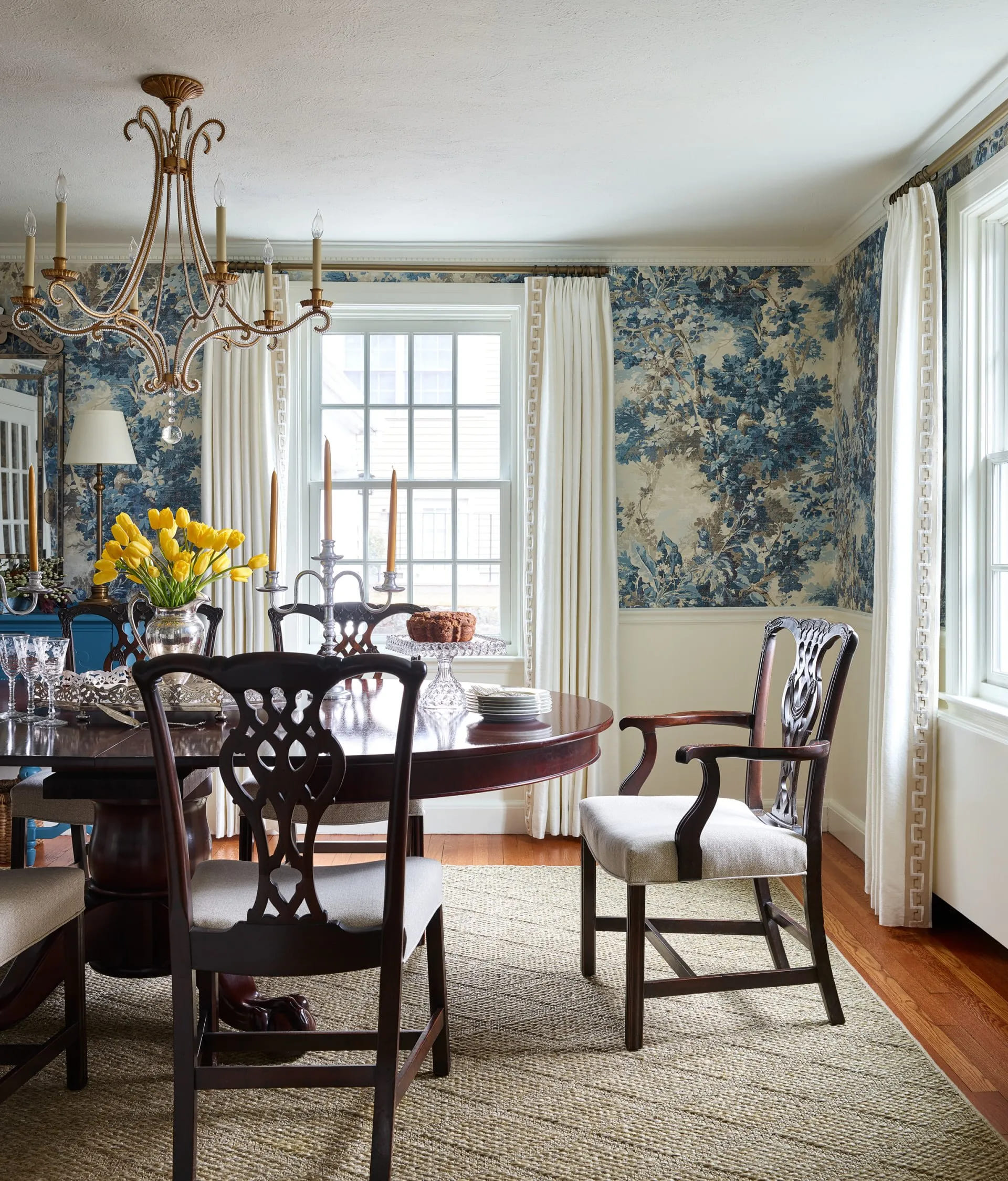 Here's a before pic of the sideboard area. My client said she picked it up for a song years ago. It is a nice solid piece of furniture that I thought would look great painted.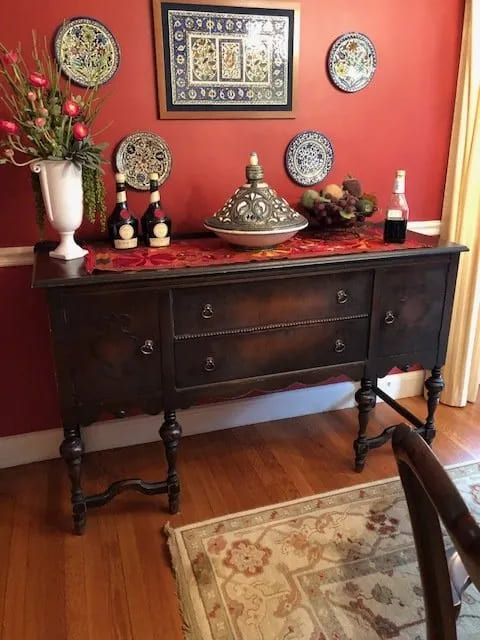 A coat of paint can do wonders for a piece of vintage furniture, especially if the wood finish is worn, but the shape and detailing are interesting. In this case Art Applications in South Boston transformed the sideboard and gave it a new life. Adding the vintage Venetian style mirror from Berkshire Home and Antiques brings some glamour into the room.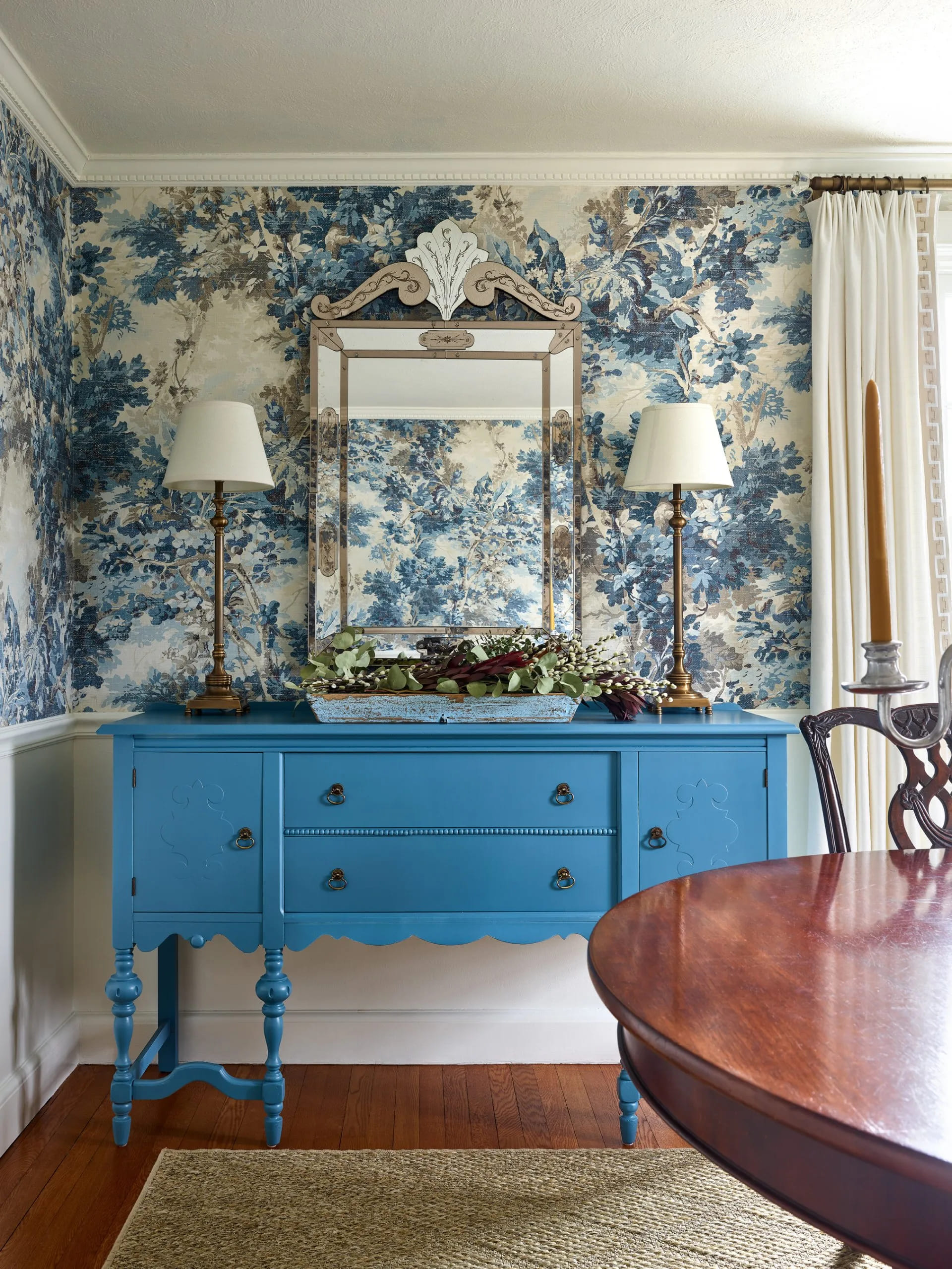 Here's a closer look at the sideboard. Since the wallpaper and mirror are ornate, I decided to use more tailored buffet lamps from the Boston Design Center Market Stalls and then created an air of informality with a dried floral arrangement in the blue wood tray from Berkshire Home and Antiques. The floral arrangement is made of dried eucalyptus and magnolia leaves, pussy willows and leucadendron. Notice how the blue paint allows us to see all the lovely details of the sideboard.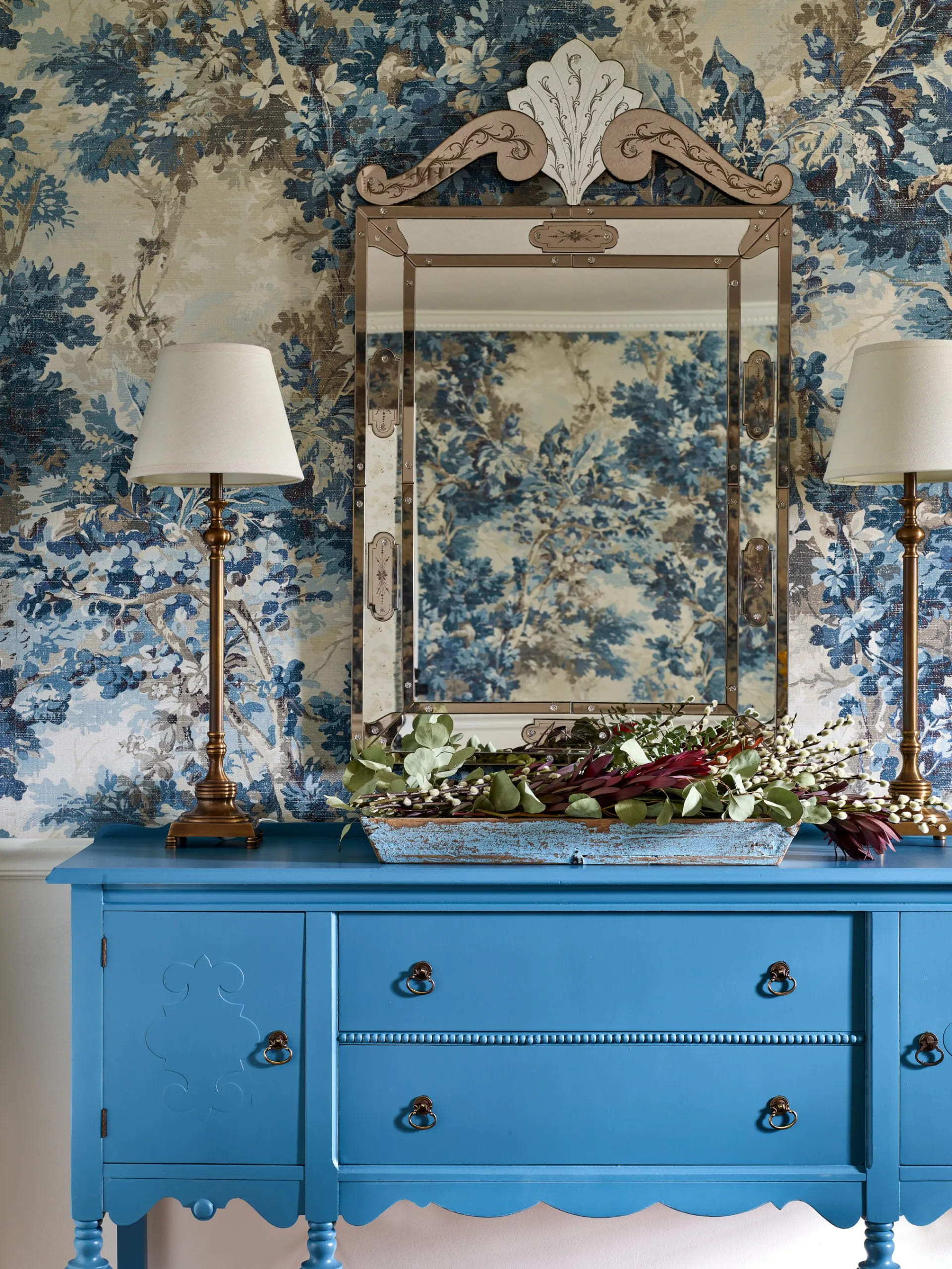 If you would like to discuss a project in your home, I'd love to hear from you. I am working remotely at my home office until it is deemed safe to meet in person. Hopefully that will be very soon.