Creating Flower Arrangements at the MFA and the Boston Flower Show
March has been a busy month for me with flowers at the MFA and Boston Flower Show. April is going to be even more so with the upcoming Matisse exhibit, "Matisse in the Studio" flower team and then Art in Bloom April 29-May 1. It's always a juggling act with work and other commitments, but I always push it to the limit when it comes to flowers. In mid-March I was flower team captain for the MFA which means I was in charge of the arrangements for a week. A usual week involves several trips to the flower market for planning and pricing the flowers we are going to use. The Boston Flower Market just moved to its beautiful new location in Chelsea, so it was fun finding new ways to get there before and during rush hour. In addition we had a big snowstorm that week, so the challenge was to get the flowers and ourselves to the museum to condition and arrange. Suffice it to say, it all worked out!
Another event this month was the Boston Flower Show at the Seaport Convention Center in Boston. I was asked to do a flower demonstration on behalf of the MFA. Our theme was to do a Matisse-inspired floral arrangement to welcome the new exhibit, "Matisse in the Studio" which opens on April 9th.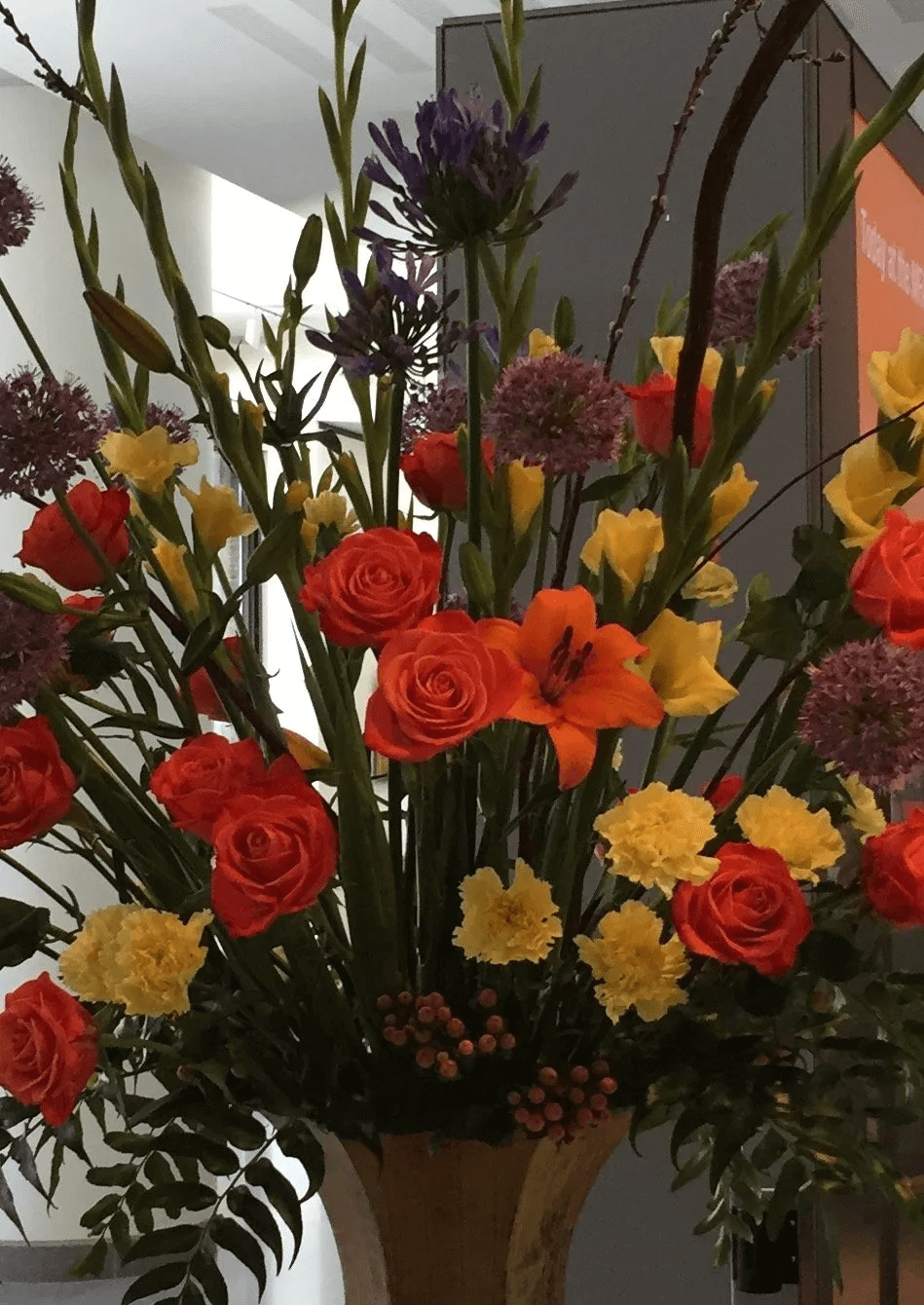 I never tire of this color combination of orange, yellow and purple. The colors are so vibrant, and some visitors really appreciated the spring like feel after the snow storm the day before.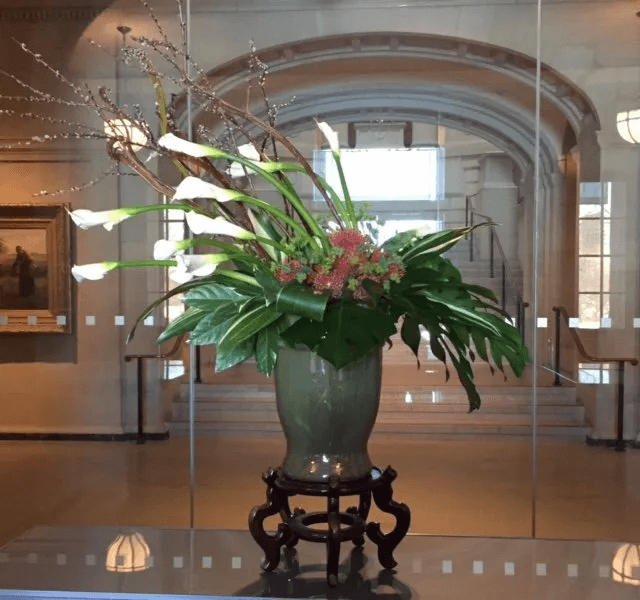 Here is another design in the Fenway entrance of the museum, arranged by our team. The wild pussy willows, callas, and leaf manipulation created a wonderful sculpted feeling!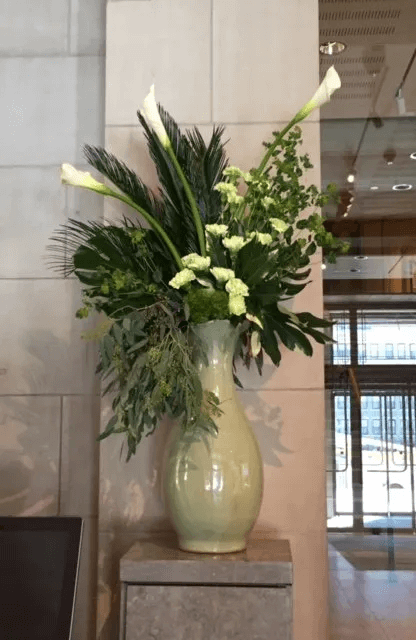 A pair of these at the Huntington entrance of the MFA was also arranged by our team. I love how the callas and tropical sago palm and monstera leaves create an uplifting mood after a heavy snowstorm.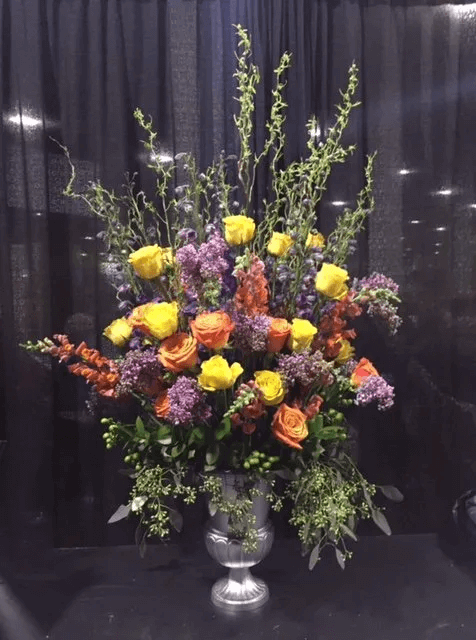 This is the arrangement I did on Saturday for the Boston Flower Show on behalf of the MFA. The inspiration for the floral arrangement was the painting by Matisse called "Purple Robe and Anemones" which will be featured in the upcoming exhibit, "Matisse in the Studio" on April 9 at the MFA. A special thank you to Christine Sampson, Dina Peinert, Sue O'Brien and Darlene Sallen of the MFA for their encouragement and support!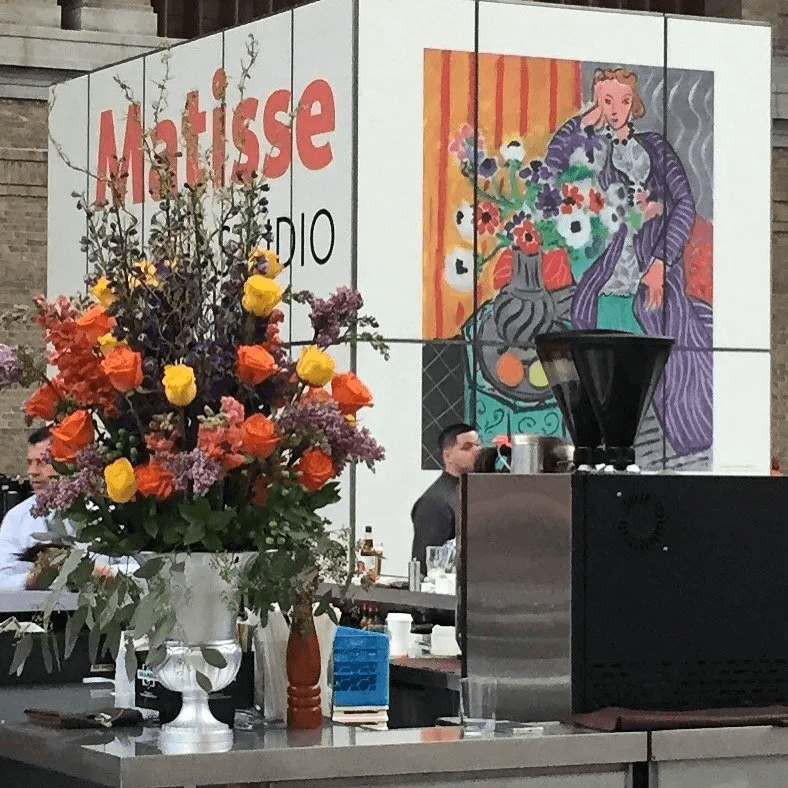 We brought the arrangement back from the Boston Flower Show to the MFA, and placed it in the New American Cafe in the sight line of its inspiration, "Purple Robe and Anemones" by Matisse. What a great (and exhausting) day.