Getting Organized!
One of the best things I did for myself this past year was to update our master bedroom for the Fall 2017 One Room Challenge . Updating the bedroom meant not only painting, new furnishings, draperies, rugs, etc, but deciding how to use and organize the space. It's provided comfort and coziness especially during the cold spell and winter storms we're having in New England this year. Now that the master bedroom is complete and the holidays are over, it's time to focus on new projects for my clients, and new goals for myself.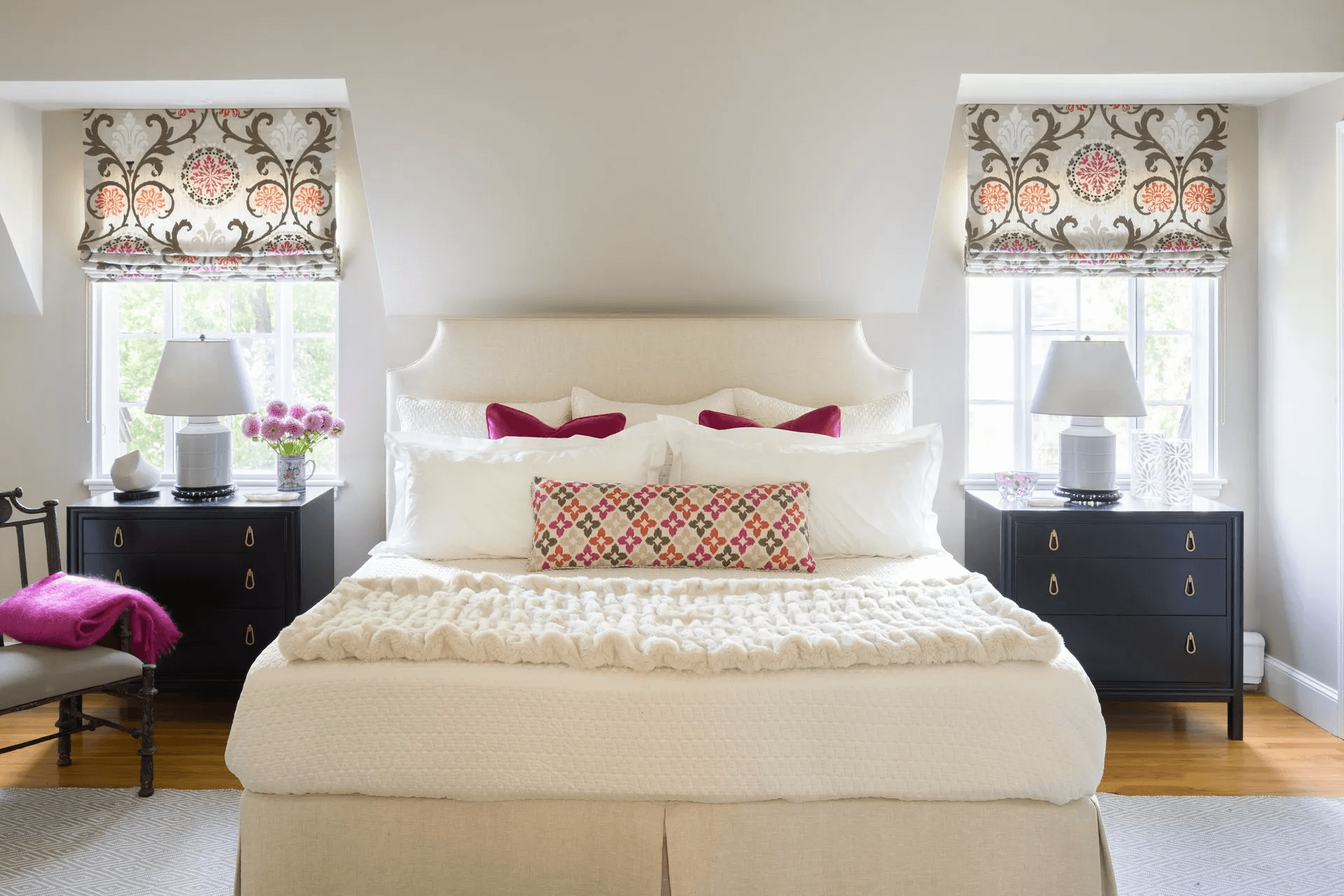 Last week a friend of mine told me she was cleaning out her house "as if "she was moving. Except she has no intention of going anywhere! I told her that I have been doing the same thing. If two of us are doing it, I assume many others are as well. Perhaps this is a new trend for 2018!
I have been selling furnishings and accessories that I no longer need. Cleaning out closets a la Marie Kondo, that is, keeping only items which give me joy. Going through book shelves. Bothering my husband to go through his bookshelves ( a struggle!) It's all good even though there's a ways to go.
To add to the clutter, when I went back to school for interior design, my house kind of exploded with drafting supplies, fabric samples, design boards, floor materials, catalogs, paint decks-you name it. A colleague from design school, Myriam Jacopille, was having the same problem, so we have decided to move our offices out of our homes. Coming this spring we will set up a great work space and materials library in our new office in Newton Centre. More details to come as we make progress. Here's a sneak peek of the rugs and paint we're considering for the space……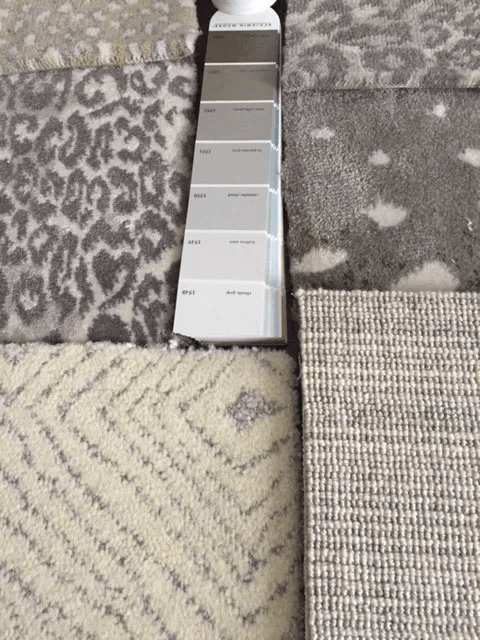 We're aiming for a clean, light neutral palette where we can work and store our tools of the design trade!
This time of year many people resolve to be more organized, and there are many comprehensive articles online such as this one:   http://www.womansday.com/home/organizing-cleaning/tips/g3310/how-to-get-organized/. Here are a few things I have been doing to get more organized and feel less tied down with clutter.
Keeping the kitchen as a place for family time and meals. Keeping paperwork, mail and homework at a work space  instead of the kitchen counter. And clearing those kitchen counters as much as possible. The less clutter, the more relaxing it is to cook and bake.
Trying to cut down on possessions I don't need. The less there is, the less there is to take care of. The winter months in New England with freezing temps and snow days provide great opportunities to do some cleaning and decluttering. I prefer "winter cleaning" to "spring cleaning" any day.
Investing in new shelving and baskets or boxes to store books, games, magazine and kids' toys. Ikea has great options for this. Or finding a case piece that can serve as a lovely focal point in a room where you entertain. Not only can you display your favorite things, but you can also store dishes,  serving pieces and trays.
Using baskets with or without lids can be decorative as well as practical. I have one near the fireplace with logs, kindling and matches. I have a small basket in the bathroom to hold my daily makeup items and another in my office to store magazines. I'm looking forward to the new office where Myriam and I will have tons of shelving for our materials library and baskets to keep clients' project materials super-organized.
Reorganizing the clothing in your closet according to color.  I've done it, and it's much easier getting dressed in the mornings!
Cleaning out bathroom drawers and cabinets. A lot of health and beauty products expire. I just filled two bags of old lotions and creams and makeup, from my master bath. It's amazing how stuff just piles up. Also, in the past year I noticed that my husband loves to shop in Walgreens and CVS. In the spirit of the new year and staying organized, I have requested a moratorium on drugstore purchases! So far, so good!
Stacking large coffee table books around the house. In a spare moment, you'll definitely pick up one to read!
Having a few well-loved containers to keep fresh flowers in your home at all times. Amaryllis bulbs, paper whites and tropical flowers are great this time of year.
What are some of the ways you stay organized? Let us know!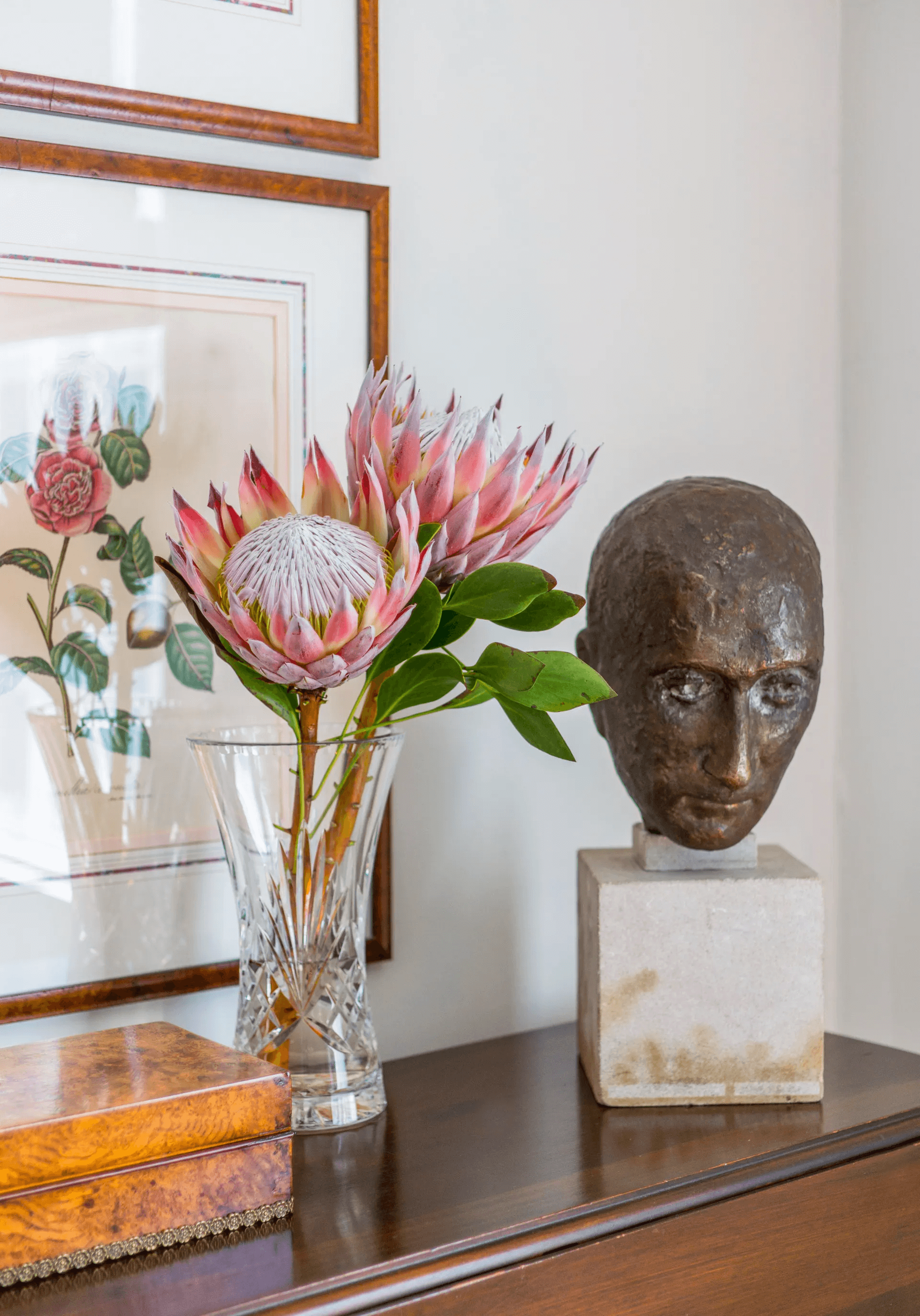 Once you get more organized, you'll be inspired to update an area of your home. We at LW Interiors would love to help. Call us for a design consultation at 617-633-1224, or email us at lwinteriorsnewton@gmail.com. Happy new year and happy organizing!