More Decisions – Furniture and Upholstery Selection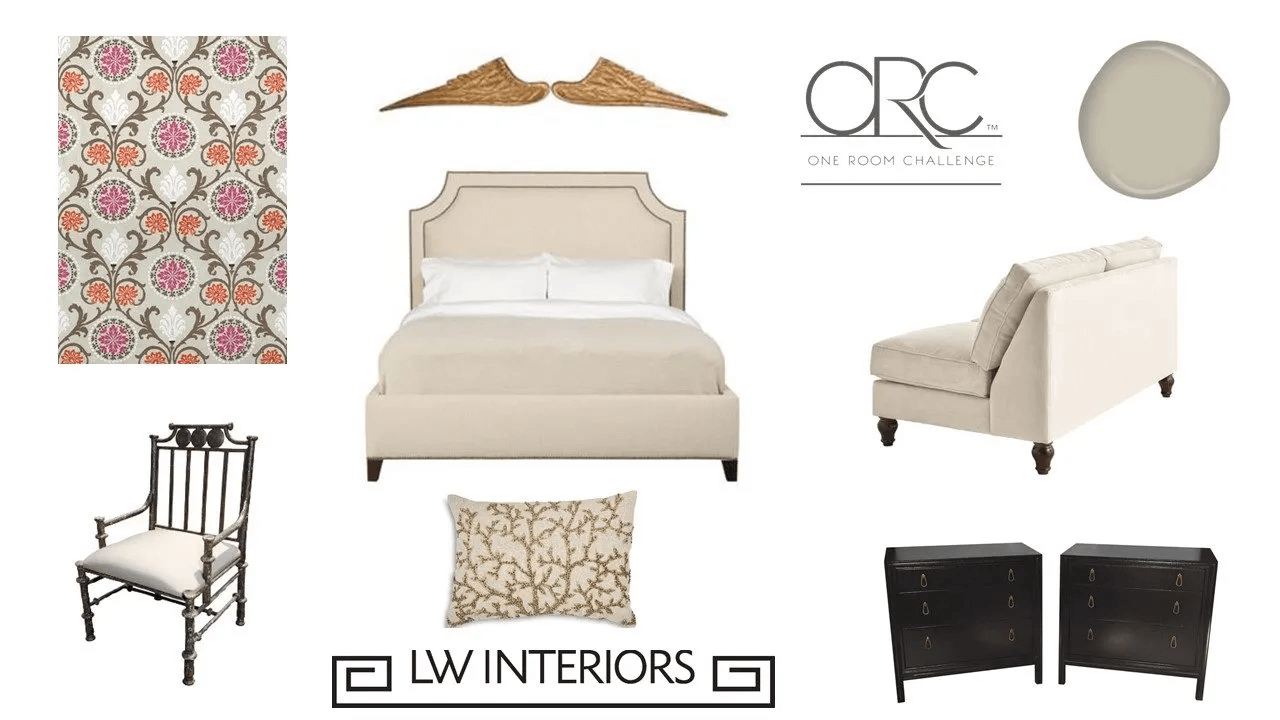 Welcome to Week 3 of the One Room Challenge. The ONE ROOM CHALLENGE, sponsored by Calling It Home, is a bi-annual online design event held every April and October. Twenty design bloggers from around the country take the challenge to design a space in six weeks and blog about the design process to their readers on Wednesdays. Anyone else with a blog is invited as a guest participant linking their room transformations with the event on Thursdays. There are about 200 guest participants around the country participating this time around, and their projects are amazing. I'm Linda Weisberg of LW Interiors, and I'm here to share the progress of LWI Project Angel Wings – my master bedroom update!

Finding the right case pieces for a design project can be a challenge in itself. Especially because of the ORC time crunch, I was fortunate to find many of the pieces for Project Angel Wings at Berkshire Home and Antiques in Great Barrington, MA.There one can find a huge inventory of beautiful things – new, vintage and antique – in many periods and styles. I found a pair of vintage chests for each side of the bed. I love vintage pieces because you can find unusual things and pour your creativity into  them.  And it's great for the environment! Here's a "before" pic of the chests.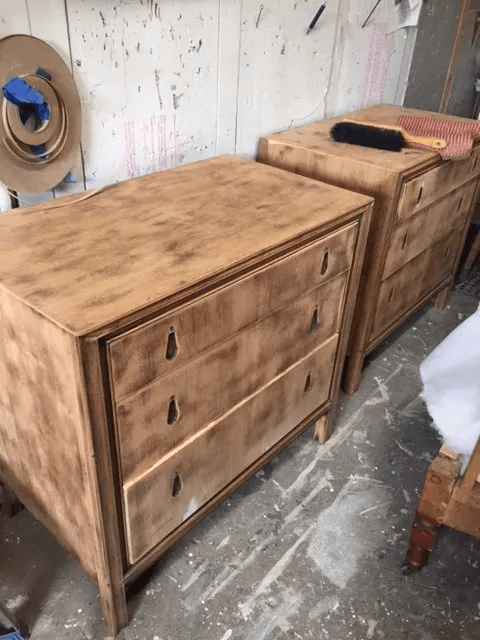 I love the pulls that are embedded in the drawer fronts for a clean, modern look! Here are the chests after being painted in a high gloss black! The pulls were sprayed antique brass.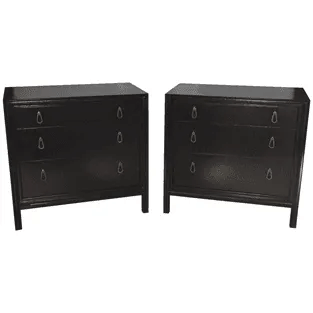 Part of the design process, as I've said previously, is putting the pieces of a big puzzle together. So while choosing fabrics, I also had to decide where I was going to use them, and then make sure the right dye lot and the quantity needed was available. It's a sweet spot when it all works out!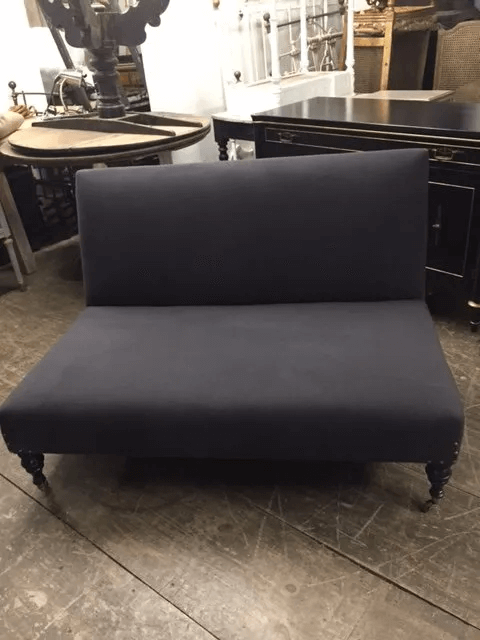 Here is a vintage love seat I also found at Berkshire Home and Antiques. I am working with my upholstery work room to fabricate a cushion for it, as right now the seat is 14″ high, and I prefer 18″. It will be covered in Citra, a Krypton fabric from Thibaut. I use high performance fabrics whenever possible. Just back from visiting the Thibaut showroom at the High Point Furniture Market, I saw a board of Citra in many colors. It's subtle, beautiful and timeless.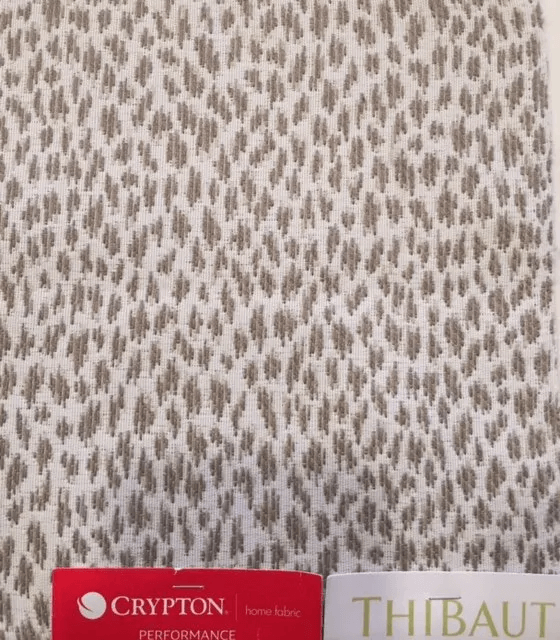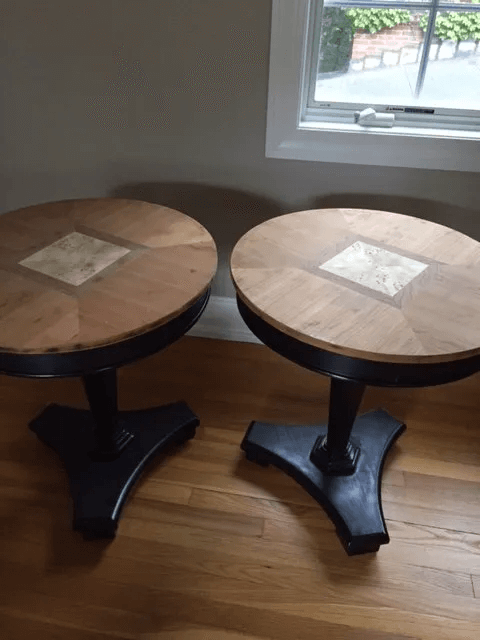 I found these neoclassical style tables at Berkshire Home and Antiques. In the next pic they are in place in the space, waiting for the love seat and rug to be installed. I love the design and rustic feeling of the table tops. Never have seen anything like them before.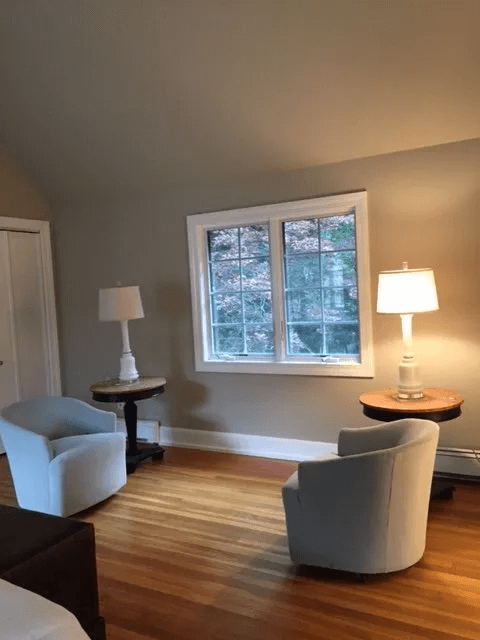 I already own a pair swivel chairs that I plan to reupholster in a Duralee velvet and have them flank the love seat. Both love seat and chairs are at Design Upholstery in Framingham, MA as we speak! They promised to have them ready in time for the photo shoot, and I know they will deliver! Here is the swivel chair fabric, a beautiful velvet from Duralee.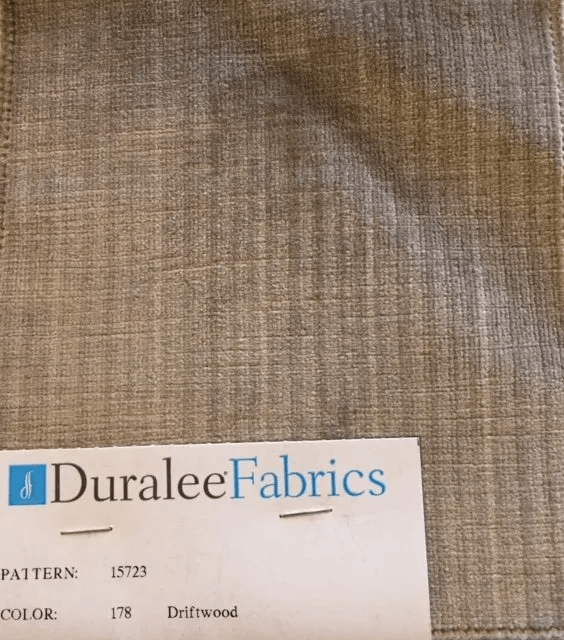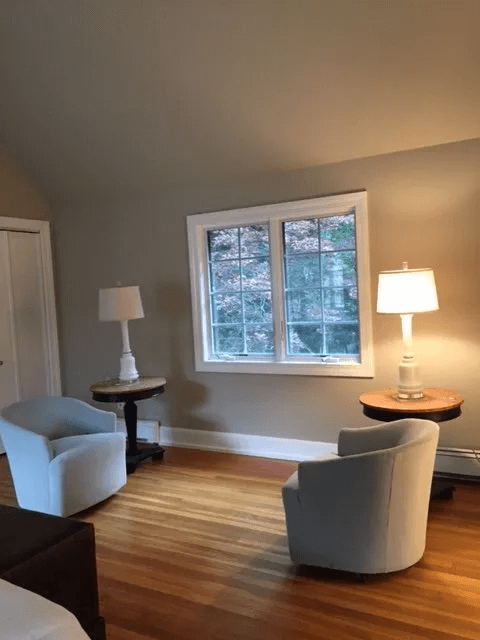 And here's a pic of the swivel chairs before they were shipped off to the upholsterer. Because I already owned them, it made it easy to place them in the space to determine the size of the coffee table I needed. I found a square table with a gilded metal base and gray tinted glass top that I thought would work. Here is a sneak peek of the table detail below.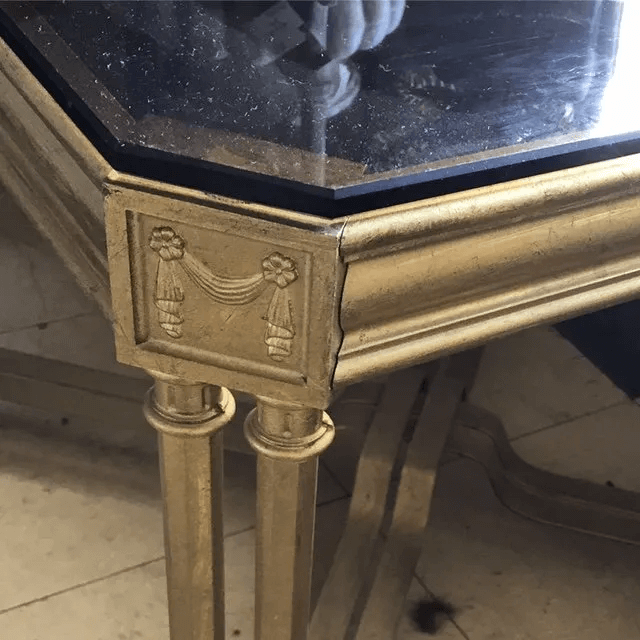 While the base is more modern looking, the table has classical details which give it a timeless feel. And I love the tinted glass top!
Just came back from the High Point Furniture Market where I learned what's new, what's trending, what's in style now. l love to share my knowledge of new products with clients and incorporate them in projects. What I tend to look for are pieces that will stand the test of time. I guess I would describe myself as someone who looks for trends that are timeless. What's your take on that?
And here's a sneak peak of what's to come.