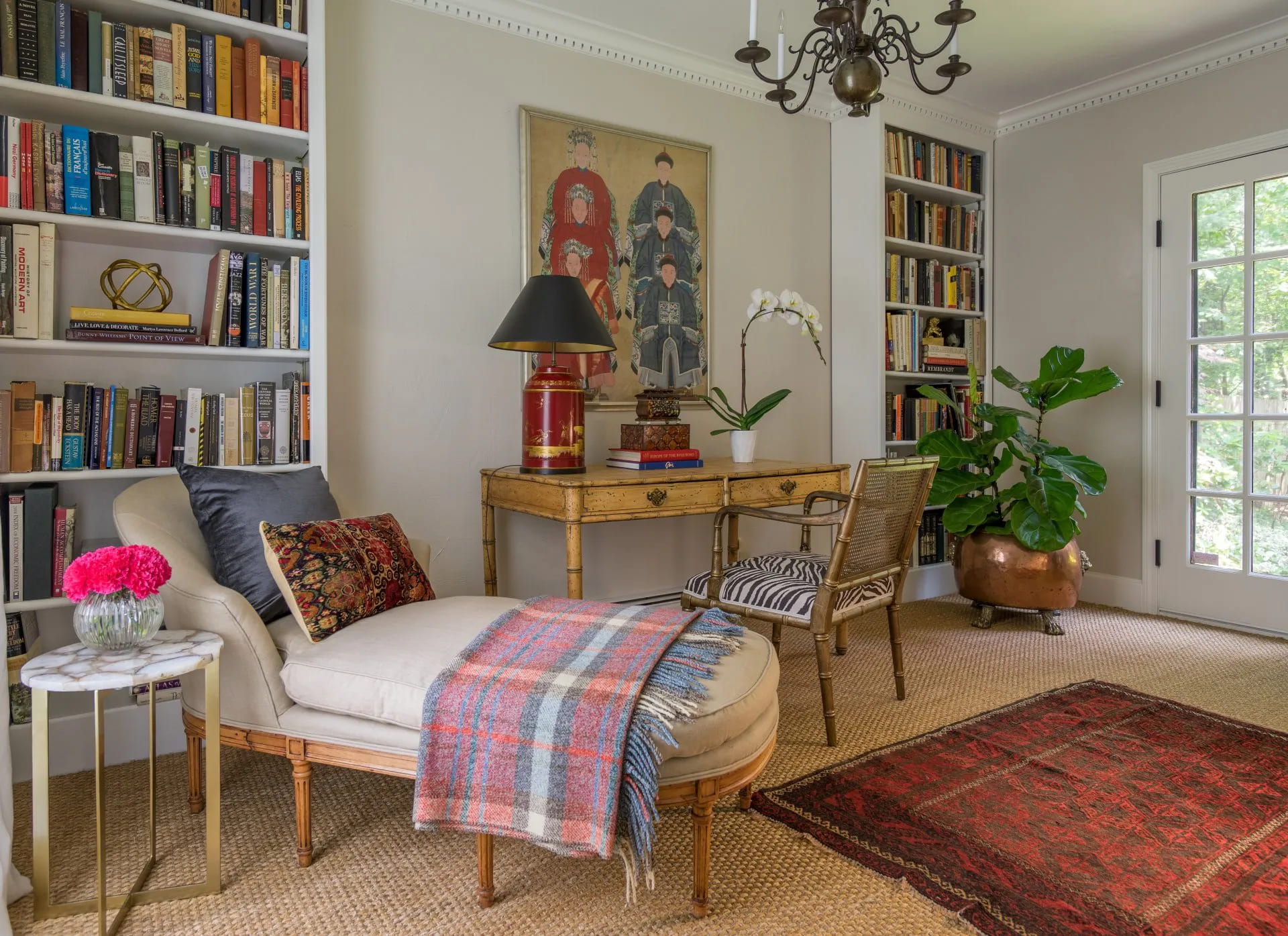 Now that winter is here, I've been on the look out for cozy and beautiful ways to stay warm. With living room and bedroom projects, a throw on a sofa or bed is something I always recommend. However, I've heard negative feedback  regarding wool blankets because many feel that wool is irritating to the skin, feels scratchy or causes allergic reactions. In the winter I myself like to layer up with cashmere. But wanting to understand more about wool, I thought to do some research to share with you and also provide alternatives when purchasing throws and blankets that are not wool. In doing so, I learned more about this fabulous, natural fiber. (Above photo by Eric Roth)
These are the features for which wool is famous:
Water resistance. Wool fiber has a water-repellent outer layer that surrounds each hollow fiber. This results in water being repelled, but humidity absorbed, and that helps with thermal regulation. It will keep you warm even when wet.
Moisture wicking. Wool keeps outside moisture away from the skin and also wicks away perspiration, thus keeping the body warm and dry.
Excellent insulator. Insulating air spaces form in wool when worn next to skin which helps to retain body heat.
Wool regulates body temperature and is breathable, so you'll always stay comfortable no matter what the weather is.
Wool fibers blend well with other natural or synthetic fibers to create a wide array of different fabrics. Some wools are treated in an acidic bath, and some fibers are coated in polymers to take away the scratchy feeling.
It's sustainable and will last for years.
Here are the types of wool, the animals from which they come, and their properties.
Lamb's wool comes from the first shearing of a lamb. Its soft silkiness and warmth allow lamb's wool fiber to be used in the production of apparel worn close to the skin. It is the most hypoallergenic of all wool, resists dust mites, and  makes an ideal choice for bedding and linens. Most children's wear is made of lamb's wool.
Merino wool comes from merino sheep mostly bred in the mountains of Australia and New Zealand. It's sturdy and less likely to pill. As fiber diameter is the single most important wool characteristic determining quality and price,  the finest wool is merino. And the highest quality merino wool is very soft.
Shetland wool-from Shetland sheep in Scotland. These sheep can survive tough climate conditions, and are bred for wool and their meat. Their wool is often undyed, and the more rough wool fibers are used for tweed apparel.
Cashmere is from Cashmere goats in China and Mongolia. It is soft and some say 7-8 times warmer than merino. It has a luxurious feel and elegant drape.
Mohair is produced from Angora goats and is soft, durable, strong, and luxurious. Mohair velvet is a wonderfully soft yet durable fabric for upholstery.
Alpaca is from Alpaca grown in the Peruvian Andes. Strong fiber, water resistant, soft on skin. There's no lanolin (wool wax), so there's less chance of an allergic reaction. Good for those with skin allergies.
Vicuna is from Vicuna in the South American Andes region. It's the most expensive wool fiber because the vicuna can only be shorn every three years and have to be caught in the wild.
Shearling is a skin from a recently shorn sheep or lamb that has been tanned and dressed with the wool left on. It has a suede surface on one side and a clipped fur surface on the other. Usually the suede side is worn outward.
Shearling can only be made from real sheepskin, not from synthetic fibers.
Wool allergies can be caused by dyes or dust mites in the wool, chemicals added to the wool, or coarse fibers. The way wool is combed and spun also can create allergies if in the combing process the short, prickly fibers are not removed. Some sheep breeds have fewer short fibers in their fleece, such as the merino sheep. Another cause for wool allergies is from lanolin which coats the wool fibers of some sheep. Many people have lanolin allergies.  Good news is that the alpaca, cashmere, and llama wools are lanolin free. And finally if you have a wool allergy, oftentimes a full under layer of clothing such as a cotton shirt will enable you to wear a wool sweater over it without any harmful effects.
For years I have been a big cashmere fan. Just layering up with a camisole or tee shirt underneath has been very comfortable for me.  But lately I've tried sweaters with an alpaca/merino mix, and they have been super comfortable, soft and warm. Also I've seen alpaca and lamb's wool throws that are very soft. Before dismissing wool products completely, it's good to check the tag to see the composition of the product and to feel it to see if you like it or not.
From a decorating point of view, a throw can add color as well as warmth and comfort. Here's a mohair throw I found at MacKimmee Co in Lenox to add to my family room's cozy factor. Everyone in the family loves it!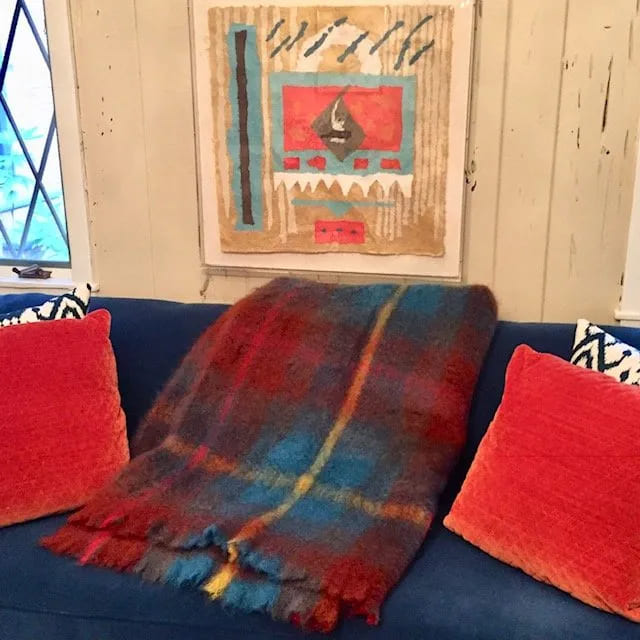 And finally if you definitely do not want a wool throw or blanket, there are alternatives. There are throws made of cotton weaves, linen, and synthetic fur – all of which add a layer of warmth during the cold winter months. Flannel made from cotton is also a good choice. There are other wool alternatives such as polyester fleece and acrylic wool which are synthetic fibers. Though they do not have the same insulating properties as wool, they are good for those with allergies.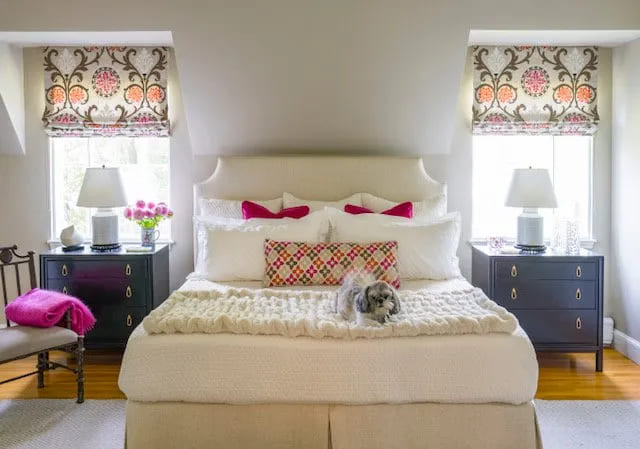 Here's my shih tzu, Leo, enjoying the faux fur throw on the bed. The pink mohair throw on the chair adds a pop of color in the room. Please feel free to share your thoughts, opinions and experience with wool products! (Photo by Eric Roth)